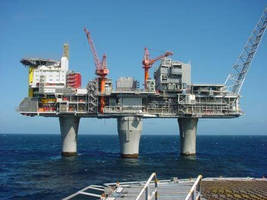 Compressor drive systems, power-from-shore and automation to improve production while avoiding greenhouse gas emissions from the Troll A platform in the North Sea Zurich, Switzerland, - ABB, the leading power and automation technology group, has won an order worth an estimated $270 million from the international energy company Statoil to supply an electric drive system for two new pre-compression...
Read More »
ROLLE, Switzerland, -- Nissan Motor Co., Ltd. today unveiled its new generation XTRONIC CVT (Continuously Variable Transmission) for 2.0 to 3.5-liter engine vehicles and a new Hybrid System for front-wheel drive vehicles, both based on newly developed environmental technologies. Both developments represent important steps in Nissan's goals to improve the fuel economy and environmental performance...
Read More »
Dual-speed Geared Traction Drive (GTD) shifts electronically, using software-controlled motor synchronization, and provides respective max output torque values of 1,893 and 810 lb-ft per wheel in first and second gear (180 mph max). Featuring integrated inverter, electric motor, and 2-speed transmission, solution can fit many architectures and enables optimal performance by eliminating...
Read More »
- Also Introduces first US e-Bike with NuVinci® Harmony(TM) Intelligent Drivetrain - SAN DIEGO - Interbike Expo, Las Vegas - Fallbrook Technologies Inc., developer and manufacturer of NuVinci continuously variable planetary (CVP) technology, is emphasizing the increasing adoption of its NuVinci N360 drivetrain in the US at the Interbike Expo, September 12-16 in Las Vegas. More than 40...
Read More »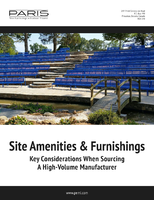 This white paper looks at the six key considerations when sourcing a high-volume manufacturer of site amenities and furnishings. Download now to find out more.
Read More »
Utilizing CVP (continuously variable planetary) technology, NuVinci® Harmony Intelligent Bicycle Drivetrain provides smooth, step-less shifting through infinite number of effective gear ratios for bicycle drivetrains. Harmony Base Controller intelligently manages ride by automatically maintaining slow, medium, or fast (typ) pedaling cadence as chosen by rider via pushbutton. Harmony...
Read More »
MOSCOW, May 31, 2011 - Dana Holding Corporation (NYSE: DAN) today introduced new, integrated drivetrain systems that represent the company's deepening support for construction OEMs in Russia and the Commonwealth of Independent States. Dana presented its new Spicer® TZL Series powershift transmission to the Russian market at the CONEXPO Russia at CTT 2011 construction equipment show here....
Read More »
ORLANDO, Fla. -- Siemens Energy is installing a turnkey HVDC (high-voltage direct-current) back-to-back link to connect the power supply networks of New Jersey and New York. In the future it is estimated that an additional 660 megawatts (MW) of controlled electric power will be transmitted via a high-voltage cable link across the Hudson River from New Jersey to boost the power supply of the...
Read More »
AB Volvo Penta and Garmin Ltd have entered into a joint development and marketing strategic alliance to provide instrumentation, navigation and communication equipment for marine use. As a result, Volvo Penta will strengthen its position as a world-leading supplier of integrated propulsion systems in the marine industry. Boat builders and end users in the marine industry are looking for...
Read More »
SHANGHAI -- As part of the company's growing commitment to original-equipment manufacturers (OEMs) in China, Dana Holding Corporation (NYSE: DAN) today announced the lineup of drivetrain systems that will be presented this week at Bauma China 2010, the largest exhibition of construction vehicles, machinery, and equipment in Asia. Located in Hall E5, Stand 528 at the Shanghai New International...
Read More »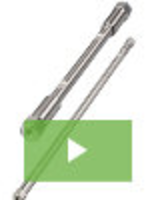 Jordi Labs provides materials solutions that set the standard for innovation and quality. Our line of GPC and GFC columns are on the cutting edge of precision manufacturing and a result of our uncompromising commitment to quality and customer service. See our video to learn more.
Read More »