Available in sizes based on 120 or 240 V energy needed for capacity of housing, Universal Low Watt Density Preheater(TM) Kits feature flexible silicone/fiberglass heating pad that mounts to outside of housing using permanent adhesive. Flexible ceramic insulation is mounted on top of preheater to keep electrical energy draw low. Preheater converts metal of housing into heat transfer element,...
Read More »
Suited for front-end-of-line and middle-of-line applications, dual-beam Model LSA100L supports low-temperature processes such as nickel silicide formation. Single narrow CO2 laser beam heats wafer surface from substrate temperature of 400°C to peak annealing temperature in range of 1,100-1,350°C, while second laser beam is used to locally preheat wafer. Built on customizable Unity...
Read More »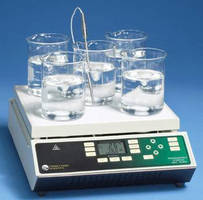 Suited for laboratories where reproducible, hands-off sample preparation and experimentation are required, EchoTherm(TM) Model HS65 features 12 x 12 in. solid ceramic glass heater plates that can be heated from ambient to 400°C. Stirring speed is 100-1,500 rpm and controlled by optical coupler to 10 rpm. With Model HS65, programming is done through front panel membrane switch and...
Read More »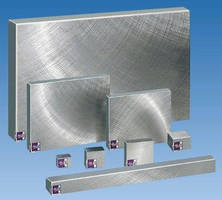 Several new lines of metal plates and an expansive selection of metal blocks and bars offer design engineers more choices than ever before. (Schaumburg, IL) - MISUMI USA, Inc., a subsidiary of MISUMI Corporation, part of MISUMI Group, Inc. (Tokyo: 9962) and a leading provider of fixed and configurable mechanical components for machine building and factory automation systems, has greatly expanded...
Read More »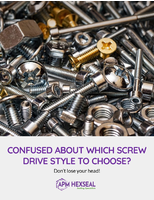 This white paper outlines the different types of screw head and drive designs.
Read More »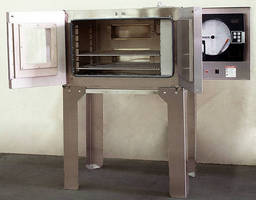 No. 983 is an electrically-heated 550°F(~287.78°C) bench oven from Grieve, currently used for curing medical instruments. 3KW are installed in Incoloy sheathed tubular heating elements. Workspace dimensions are 26" wide x 22" deep x 16" high. The oven has 3" insulated walls, a Type 304, 2B finish stainless steel interior and a #4 brushed finish stainless steel exterior. Two 13" x 4" access...
Read More »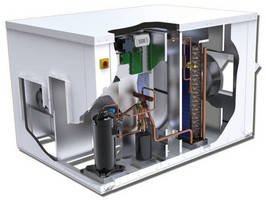 Designed to help meet standards of acceptable levels of indoor air quality (IAQ), Z Series integrates energy recovery wheel into dedicated heat pump system for ventilation and temperature control. Unit can recover more than 80% of exhaust air energy year-round, and energy efficiency ratio (EER) is greater than 17 in cooling mode. In heating mode, coefficient of performance is greater than 10.
Read More »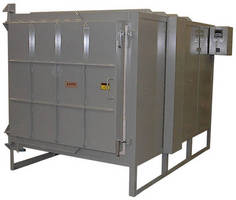 A large recirculating oven built by Lucifer Furnaces, Inc. in Warrington, Pennsylvania, has been shipped to a West Coast manufacturer who will be using the unit for annealing and stress relieving. The 36 high x 36" wide x 48" deep work chamber is heated electrically with the work area baffled from the heating elements by a stainless steel liner. 50 KW are delivered through 10 gauge...
Read More »
Suitable for producing 250 mm diameter x 400 mm long crystals, 90 kg K1 Kyropoulos Crystal Grower is designed with multiple, independently controlled heating elements, weight sensors to determine crystal's growth rate, computerized control, and data logging functions. System grows sapphire crystals, which are mostly used in substrate wafers for high brightness blue and white LEDs found in traffic...
Read More »
Maxon's XPO(TM) Ultra-Low NOx burner answers two critical needs - optimal fuel usage and ultra-low emissions - for a variety of process heating applications. XPO(TM) produces single-digit NOx with minimal excess air without the complexities of flue gas recirculation, exotic materials, or restrictive metal fiber, while providing a 4:1 turndown ratio. XPO(TM) is designed for simple installation and...
Read More »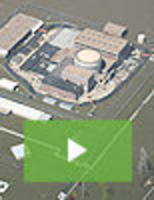 Aqua Dam is the ultimate solution for large-scale water control projects. It combines lightweight, large size, and portability all in one innovative product. To learn more about the uses, and applications of Aqua Dam, or to see it in action, check out our new video to get all the details.
Read More »