CAMBRIDGE, ON - Photowatt Ontario today announced that it will supply Ontario-made modules to the Canadian subsidiary of a leading global supplier of solar power serving the Ontario solar market. The supply agreement is a two-year commitment for the manufacture and delivery of approximately 24 megawatts ("MWs") of modules with the potential for volumes to increase by an additional 24 MWs. The...
Read More »
Rooftop Systems Feed Solar Electricity Directly Into Grid; Part of Utility's Solar 4 All Program PERTH AMBOY, N.J. - Public Service Electric and Gas Company (PSE&G) and Matrix Development Group today marked the completion of two rooftop solar installations at adjacent Matrix-owned buildings in Perth Amboy, NJ. The 2.8-megawatt (MW) project is part of PSE&G's Solar 4 All(TM) program that is...
Read More »
Johnson Bros. Metal Forming Co. is busy making Solar Panel Frames and other Solar Energy components such as Supports and Structure Components for the Solar Panels, as well as Reflectors and Reflector Troughs for Solar Concentrators. Due to the variations of solar panel frames across the industry, Johnson Bros. can offer a wide variety of custom shapes needed for all different solar panel frames...
Read More »
RAMSEY, N.J., April 20, 2011 - Konica Minolta Sensing Americas, Inc. (KMSA), the worldwide leader in the industrial measurement of color, light and shape, introduces its AK Series of new photovoltaic reference cells to the U.S. market. In August 2010, KMSA previewed its new line of reference cells during the SPIE Optics and Photonics conference to much industry excitement. The AK reference cells...
Read More »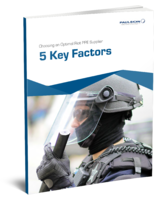 This ebook provides 5 key factors to choosing an optimal riot PPE supplier.
Read More »
o Highest-Ever Reported Efficiency of Nearly 13 Percent on a Full-Size CdTe Thin Film Solar Panel o More than 100 Megawatts of New Orders for Thin Film Solar Products o GE to Build 400-Megawatt Manufacturing Facility, will be Larger than Any Existing US Solar Panel Plant Today o Solar Strategy Complemented by Announced Acquisition of Power Conversion Technology Company Converteam o GE Completes...
Read More »
WUXI, China and SAN FRANCISCO, Ca. -- Suntech Power Holdings Co., Ltd. (NYSE: STP), the world's largest producer of solar panels, announced it will develop a 10MW solar installation on the roof of the world that will generate decades of clean electricity for thousands of residents of the Tibetan Plateau. Located in Chek Kang village in the Sangri County, Shannan Prefecture, Tibet, the solar power...
Read More »
Scapa Group Plc. (LDN: SCPA.L) has won the Outstanding Achievement Supplier Award by United Solar, a leading global manufacturer of lightweight, flexible thin-film solar modules and a wholly owned subsidiary of Energy Conversion Devices (NASDAQ: ENER), Scapa was presented with the flagship award in recognition for its effort, dedication and support in the validation, qualification and supply of...
Read More »
o Day4 60MC-I Solar PV Module Receives Microgeneration Certification Scheme (MCS) and Kitemark® Certification o Announcement Marks Entry Into Rapidly Expanding UK Solar Market Day4 Energy Inc., a leading global provider of solar photovoltaic (PV) products and solutions, announces it received Microgeneration Certification Scheme (MCS) status enabling it to begin selling its Day4 60MC-I solar PV...
Read More »
WALNUT, Calif. - Sunvalley Solar, Inc. (OTC Bulletin Board: SSOL), a leading solar power technology and solar system integration company, announces the promotion of its most advanced and efficient TW-TF series thin film modules to the U.S. market. The A-Si thin film module has better performance in high temperatures and lower irradiance conditions than other modules. Not only do the A-Si thin...
Read More »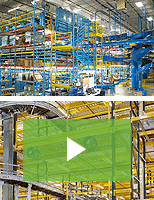 Steel King racks are designed to meet seismic requirements in the most demanding conditions. Our durable storage products help your company save on maintenance costs. Check out our product video or download our Rack Planning eBook to learn more.
Read More »