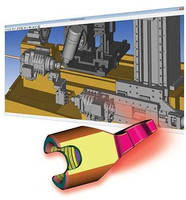 Delcam to demonstrate PartMaker Version 2015 at the east coast's largest machine tool show Fort Washington, PA- – PartMaker Inc., a division of Delcam, will demonstrate the latest version of PartMaker Software for programming CNC Mills, Lathes, WireEDMs, Turn-Mill Centers and Swiss-type lathes at Eastec 2015 in West Springfield, Massachusetts, May 12 – 14, 2015. Highlighting the new...
Read More »
Quick ROI Prompts Manufacturers to Deploy Costimator-® Software throughout their Enterprise West Springfield – MTI Systems, Inc., developer of Costimator cost estimating software, announced today that the company has recorded a record number of corporate license upgrade sales in 2014. The Costimator cost estimating and quoting software has been implemented in over 1,600 manufacturing...
Read More »
HYDERABAD, India,- – SafetyOne Provides Rapid Deployment of an Environmental, Health and Safety Solution for Midsize Companies in India YASH Technologies-®, a leading technology services and outsourcing partner for global companies, announced the launch of SafetyOne, a new business management solution designed specifically to meet the needs of midsize companies in India to improve their...
Read More »
HUTCHINSON, Kan. –- In southwest Ohio sits a village named Blanchester, a thriving bedroom community to Cincinnati and other villages where residents say the banana split was invented over 100 years ago, and is honored each June with its own festival in nearby Wilmington. Just like the banana split, The First National Bank of Blanchester has served these communities for over 108 years, and...
Read More »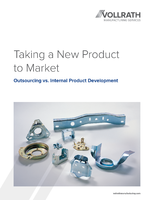 To learn if outsourced new product development (NPD) is right for your needs, and how companies like Vollrath Manufacturing Services can help, download this white paper now.
Read More »
Rohde Schwarz will again demonstrate its expertise in electromagnetic compatibility (EMC) measurements at the EMV 2015 international trade fair (booth 328, hall C2) in Stuttgart. Highlights will include compliance tests in the 5 GHz band, tried and tested EMC software with enhanced functionality and broadband amplifiers with expanded frequency ranges. Munich,- – Rohde Schwarz, the global...
Read More »
Energid Signs Licensing Agreement with Thalmic Labs for Myo™ Enabled Robots Cambridge, Massachusetts - Energid Technologies today announced it has signed a licensing agreement with Thalmic Labs, the maker of the Myo™ gesture control armband, to support new and intuitive ways to program and control collaborative robots. Collaborative robots, those that can work side by side with humans, are...
Read More »
HUNTSVILLE, Ala.- – Digium-®, Inc., the Asterisk-® Company, today announced that Aligned Communications, a premier telecommunications master agency headquartered in Dallas, Texas, has joined the Digium Cloud Agent Program as a Master Agent. Aligned Communications is an expert in cloud communications services, assessing customer environments and making recommendations for the most...
Read More »
APX's Skylight enterprise smart glasses software to leverage Recon Jet's ability to deliver information in high intensity environments VANCOUVER, Canada and WASHINGTON- – Recon Instruments, the award winning technology company behind the world's first consumer smart eyewear for sports and high intensity environments, is pleased to announce a partnership with the global leader in enterprise...
Read More »
Supporting TI C2000 microcontrollers, VisSim 9.0 provides visual language with automatic C-code production for mathematical- modeling, simulation, and model-based embedded system development. Program includes multi-scaled plots, polar plots, and block and diagram finder as well as embedded features such as Execution Ordering block, CRC16 block, and TI MotorWare InstaSPIN FAST and SpinTAC blocks...
Read More »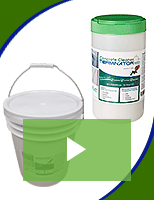 To enhance its appearance by removing oil stains, Terminator-HSD uses micro bacteria to remove the stain without harsh chemicals, acids, or detergents. Check out the video to learn more.
Read More »