Linking legacy systems across multiple healthcare departments and specialties, Apollo Enterprise Patient Media Manager (Apollo EPMM(TM)) brings distributed patient clinical multimedia and data into one unified record. Security features such as rules-based access and full audit trails ensure patient safety and regulatory compliance, while device-agnostic, open-system approach enables institutions...
Read More »
Certificate Manager gives enterprises centralized visibility and full life-cycle control of their digital certificate infrastructure. Reporting features include detailed administrative activity logs, SSL and Client Certificate organizational deployment, and status reports. In addition, certificate discovery scanning feature can automatically scan networks to detect and control all deployed...
Read More »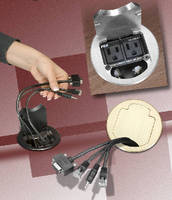 With T3-PC1-CP and T3-AC2-CP Table Boxes, users can pull out desired cables, connect laptop or PC, then return cables to compartment when finished for safe keeping. Model T3-PC1-CP allows user to connect computer to ac power, external video display, and house sound system as well as link up with network and phone lines. Model T3-AC2-CP allows for access to ac power outlets and pre-installed...
Read More »
Using Simplorer® 8.0, engineers can model, simulate, analyze, and optimize complex electrical, mechatronic, power-electronic, and electromechanical systems. Program includes IGBT device characterization tool, power module characterization tool, and online model database with more than 1,200 SPICE models of common components. Co-simulation links to Simulink®, ModelSim®, and...
Read More »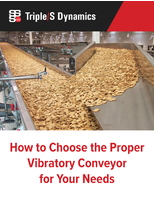 At Triple/S Dynamics, our goal is to match every single client to a conveyor system that meets their unique needs. This guide aims to provide information on the different types available to help you make the best decision.
Read More »
CARLSBAD, Calif., April 9 /- EPM Live, the leading Enterprise SharePoint Project and Work Management solution, announced today that it has released a SharePoint SCRUM Solution. EPM Live has developed a pre-built Microsoft SharePoint and Microsoft Project SCRUM template that you can use within your EPM Live SharePoint environment. EPM Live's first Agile template, takes on a SCRUM framework. By...
Read More »
Raritan and EDSA Deliver Industry's First Commercialized Green Grid Advanced/Level 3 PUE Solution for Data Center Efficiency - End-to-End Solution Measures Energy Usage of Facilities and IT Items Continuously and Automatically in order to Improve Energy Savings - NEW YORK, April 13 -- Raritan Inc. and EDSA Micro Corporation today announced that the two companies have combined their data center...
Read More »
Warehouse Management v2009.1 features outbound repacking tool for e-retailers that send 1 or 2 products to large number of customers. Specialized module reduces packing time and enables integration with multiple carrier systems to provide labelling and carrier selection, reducing delivery costs. Solution also includes support for hanging garments, allowing clothing to be hung and tracked on and...
Read More »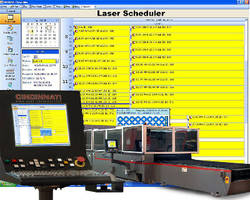 Applying lean manufacturing principles, Scheduler Software identifies excess capacity on standalone laser cutting systems, and automatically nests parts for optimum material usage and job turnaround. Program takes information entered by operator, including order requirements, part numbers, due dates, and quantities, and generates job schedule in calendar format. It also identifies parts for which...
Read More »
Housed in Â-½ U chassis, modular G-TAP(TM) Test Access Port System supports any combination of multi-mode and single-mode options at 100MegE, 1GigE, and 10GigE data rates. Unit supports 1-4 dual optical tap modules, each containing 2 full duplex links to conserve space and maximize TAP density. Six different media types and split ratios are available to meet all optical requirements.
Read More »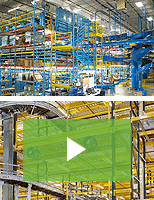 Steel King racks are designed to meet seismic requirements in the most demanding conditions. Our durable storage products help your company save on maintenance costs. Check out our product video or download our Rack Planning eBook to learn more.
Read More »