Designed for OptiCon AOI systems, PILOT v5.0 provides THT solder joint inspection as well as layout-independent inspection of pin solder joints. User interface enables operator to intuitively generate test programs. Additionally, PILOT v5.0 allows selection of respective quality class for IPC-compliant inspection of components' position tolerances, and includes reference database for documented...
Read More »
Erasing data by rewriting every byte into sectors where original data is located, Data Security Wizard v2.0 enables users to securely encrypt/decrypt or wipe any file, folder, partition, or hard disk. Software uses particular arithmetic to wipe file/folders with different file system, eliminating any chance for recovery. Functionality supports encrypting of file/folders with accounts as well as...
Read More »
Designed to automate time-consuming processes, i-COOK(TM) Professional provides restaurant operators with recipe management system, integrated nutrition calculator with ESHAdata nutrient database, and menu planning and costing tools. Release also contains foodservice-focused social network, enabling direction communication between key stakeholders. Additional features include distributor-supplied...
Read More »
Created for Office of Finance, Clarity FSR(TM) v6.5 automates creation and submission of statutory filings as well as key internal documents. Program also helps companies automate reconciliation process in controlled and auditable environment. With Continuous Controls capabilities, users can automatically identify anomalies within operating environment. With Clarity FSR, organizations can...
Read More »
This eBook describes the challenges faced by Supply Chain Leaders in Discrete Manufacturing. From consumer electronics to automotive manufacturing, most of the global economy's largest industries rely on discrete manufacturing. Manufacturers in these industries face several unique challenges. The COVID-19 pandemic, followed by war, created major disruptions in supply chains worldwide, stressing the need for more integrated, transparent systems that would facilitate proactive management and faster decision-making. With supply chain issues expected to continue in 2022 and beyond, this ebook will help describe to supply chain leaders ways to prepare for certain global challenges.
Read More »
Ekahau Site Survey features Wi-Fi 802.11 WLAN spectrum analysis capabilities allowing users to detect and visualize interference that could affect network performance. Dual-band spectrum analysis tool can be operated simultaneously with software and can be initiated from its user interface. Tool can analyze 2.4 GHz as well as 5 GHz frequency bands.
Read More »
Tried Tool announced Free Registry Cure 2009 v2009.04.1. Developed to utilize the most current technology in registry cleaning, RegCure is the most advanced prevention and maintenance tool available. Offering the most comprehensive feature set on the market and free customer support, RegCure is the PC fix preferred by PC users. Have it Your Way! Built with the individual preferences of our...
Read More »
SunTec's fully automated Relationship Loyalty solution enables service providers to analyze, categorize and determine churn factors for different customer categories, and to support flexible pricing and discounting strategies that can be tailored to the needs of each category Trivandrum, India, May 14, 2009 - SunTec Business Solutions, the leading provider of convergent transaction pricing and...
Read More »
Once again, the GOEPEL electronic GmbH demonstrates that they are one of the leading innovators in the field of the Automated Optical Inspection (AOI): due to a newly developed inspection method a reliable detection of all critical faults at circuit pins independent from the PCB layout and the assembly situation is now possible. Until now, design regulations, provided by AOI vendors, had to be...
Read More »
ATLANTA - 21 May 2009 - GE today announced that it has completed the installation of smart grid technologies to help Colorado Springs Utilities (CSU) overcome the two major challenges of power interruptions: restoration and customer communications. The newly installed GE PowerOn Outage Management System (OMS) helps CSU respond more quickly to power outages, while providing consumers with updated...
Read More »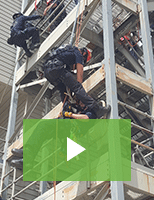 Elite Technical Services provides your company with qualified and experienced safety experts. Specializing in confined space and high-angle technical rescue and jobsite hazard assessment, your workplace safety is the top priority. Check out the video to learn more.
Read More »