Optenet NetSecure(TM), Optenet MailSecure(TM), Optenet WebSecure(TM), and Optenet WebFilter(TM) deliver dynamic and proactive protection from aggressive Web 2.0 threats. Designed to meet enterprise security requirements, these Web filtering, antivirus, antispam, antiphishing, antispyware, malware, peer-to-peer, and IM protection solutions are updated via automated network for classifying and...
Read More »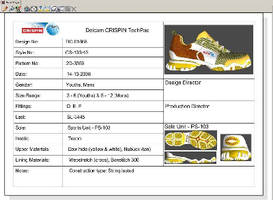 Using TechPac 2D System, designers can specify manufacturing processes to be used and sequences of operations to be followed at all stages of shoe production. Program helps ensure that design is produced exactly as specified and to required delivery schedule. It incorporates basic 2D engineering capabilities, plus comprehensive text functionality, with font, color, and scale formatting options....
Read More »
CHICAGO, Mar 18, 2009 - Siemens Energy & Automation, Inc. today announced an extension of its special pricing promotion on its SinuTrain solution, a package of computer numerical control (CNC) training software on CD-ROM to run with Windows XP, optimally suited for machine tool control-identical simulation training. Due to overwhelming response from the U.S. machine tool market, a complete...
Read More »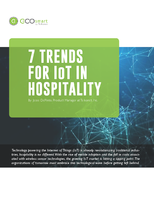 Check out this white paper to see how the IoT can be used in your hotel to reduce energy consumption, increase guest satisfaction, improve maintenance, and more.
Read More »
Micro Motion® Coriolis-specific data integrated into Flow-Cal software opens up reliability improvements and cost reductions BOULDER, COLO (March 18, 2009) -- Emerson Process Management, in collaboration with Flow-Cal, Inc., announces Coriolis-specific data integration software to enable direct interface of API Ch. 21.1-compliant Micro Motion® Coriolis data with Flow-Cal accounting...
Read More »
StartEd v5.30 helps users control Windows startup process. It recognizes startup programs that are obsolete or utilize a lot of memory, enabling users to safely disable these to increase computer performance. StartEd displays detailed info about the functionality of every system service, and warning message is displayed when system service vital to computer's stability is about to be disabled....
Read More »
With support for USB printers, network printers, FAX modems, and PDF writers, Printfil v. 5 allows character-based DOS and UNIX applications print to any printer on Windows network. It features built-in print preview function, colorized text option and user can also include logos and images stored in separate files. Software automatically redirects print jobs to any printer, including printers...
Read More »
Offering multiple language support and advanced overtime calculations, Workforce Central® v6.1 includes built-in support for country-specific work rules and reporting that help organizations adhere to government regulations. It also enables users to work with wage and labor data in multiple currencies, as well as efficiently manage employment contracts. Designed for European SMB customers,...
Read More »
PrimeTime® STA suite v2008.12 includes multicore processing technology that makes effective use of both single-core and multicore CPUs across compute server farms. It features runtime optimizations, allowing design engineers to run full timing and SI analysis on their large designs, early in implementation process. Software's multicore capability works seamlessly with job scheduling systems...
Read More »
With Mobile Star, any computer with Internet connection can access any machine that is equipped with compatible Mobile Star control system. Once installed, program monitors specific operational parameters, including engine information, hydraulic pressures, switch statuses, electrical currents, GPS position, and customizable events defined by OEM. Mobile Star also offers 2-way communication, data...
Read More »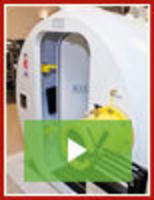 Tekna is a leader in Monoplace and Multiplace Hyperbaric Chambers for Hyperbaric Oxygen Therapy (HBOT), offering products that set the standard for quality and innovation. Our new 7200 series of multiplace chambers is a state-of-the-art system that integrates advanced engineering with a plethora of features and options making it the industry's premier HBOT system. To learn more, see our video.
Read More »