Integrated System Further Streamlines Access Solution. San Jose, CA (November 16, 2006) - Leading the industry in developing integration capability between access control systems and visitor management systems, STOPware, a Brady company, has established a partnership with Galaxy Control Systems of Walkersville, MD, manufacturers of advanced access control systems. The interoperability of the two...
Read More »
New Biometric Authentication System Will Feature the Fujitsu Award Winning PalmSecure(TM) Sensor and Suncoast Solutions' Software System SUNNYVALE, Calif., Nov. 15 -- Fujitsu Computer Products of America, Inc., one of the world's leading suppliers of innovative computer products including hard disk drives, peripherals and biometric security solutions, and Suncoast Solutions, a market leader in...
Read More »
Interpreting standard checkpoint 2-D X-Ray tomography to identify containers and their contents, Optosecurity XMS (X-Ray Molecular Spectrometer) recognizes potential threats according to their unique molecular signatures and identifies innocuous materials and liquids that may be assembled into explosives. Product can be connected to existing x-ray checkpoint systems to improve threat detection...
Read More »
Xilinx Proves Programmable Solutions are Everywhere - 'At the Heart, At the Edge, On the Move' What: Xilinx showcases customer applications in automotive and industrial markets When: 14th - 17th November 2006 Where: Messe Munchen (Hall A4 - Stand Number 576) DUBLIN, Ireland, Nov. 9 // -- Xilinx, Inc. (NASDAQ:XLNX), the world's leading programmable logic supplier, today announced its participation...
Read More »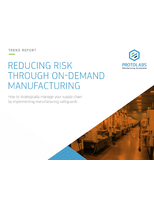 Check out this white paper to learn how putting manufacturing safeguards in place stimulates growth and reduces risk in your supply chain.
Read More »
First Bank in Mexico to Use VASCO's Strong Authentication Products; IXE Banco Has Started Roll-Out of Digipass GO3; Bank Recently Decided to Add Digipass for Java Phone to Authentication Process OAKBROOK TERRACE, Ill., and BRUSSELS, Belgium, Nov. 6 / - VASCO Data Security International, Inc. ( http://www.vasco.com/ ) (NASDAQ:VDSI), the global number one vendor of strong user authentication and...
Read More »
GeutebrÃ-¼ck is offering a new software upgrade for their GeViSoft security management software which is designed to make system breakdowns a thing of the past in prisons, central banks, ministries, and high-tech R&D departments and other highly sensitive sites. Using standard TCP/IP protocols and running on conventional computer infrastructure GeViSoft security management software is...
Read More »
ST. ALBANS, W.Va., Oct. 31 -- Gone are the days of visitors signing a paper logbook at St. Albans High School. Today, a new high-tech school safety system called LobbyGuard greets all incoming guests. In an effort to strengthen school security, LobbyGuard's visitor management kiosk can instantly check all campus visitors against national and state sex offender registries and other criminal...
Read More »
Chino, California-October 17, 2006-Optex, manufacturer of high-end infrared sensor technology, has partnered with Remote Monitoring Technologies, Inc., makers of Site-Guard Portable Security Systems, to provide a wireless outdoor security solution that requires no phone lines for data transmission. The OPTEX VX-402R Wireless Outdoor Motion Detector is one of the OPTEX sensors compatible with...
Read More »
With ability to automate and strengthen call center authentication to help financial institutions meet FFIEC guidance, RSA® Adaptive Authentication for Phone provides multifactor authentication for retail and commercial banking. It analyzes various phone channel-specific risk parameters, from phone number itself to biometric voiceprint and user behavior profiles. System generates risk and...
Read More »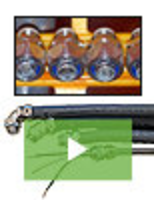 Anamet Electrical's 316 Stainless steel SEALTITE® fittings and UL-listed cord grips protect sensitive wiring components from fluids, corrosive contaminations, bumps, and abrasions with a steel core and liquid tight conduit jacket. Check out this video to learn more.
Read More »