November, 29, 2007- A Basell Metocene, polypropylene resin manufactured with metallocene catalysts has been selected by the European confectionary producer Cadbury to produce the packaging for its newly introduced "Hollywood Sphere" chewing gum brand. The Metocene homopolymer PP resin was selected for the Cadbury product due to its high level of stiffness and transparency, according to the...
Read More »
11 Oct 2007 Basell has commercialised a new family of Adsyl polypropylene (PP) sealing resins designed to run on the latest generation of high speed BOPP (bi-oriented polypropylene) production lines. "Our new grades offer producers of BOPP films an outstanding combination of improved processability and optics, attributes regarded by converters as essential for many BOPP film applications, such as...
Read More »
October 22, 2007 - Newly developed Basell PP and PE grades that enable converters to reduce wall thickness and improve productivity in packaging applications will be on display in processing demonstrations at K-2007 in Dusseldorf from October 24 to October 31, 2007. "Reducing wall-thickness in packaging applications is a key factor for our customers in their competitive markets and was a key...
Read More »
November 14, 2007 - PolyMirae Company Ltd, a joint venture of Basell and Daelim and leading Asian polypropylene manufacturer and marketer, has introduced a new pelletised high fluidity polypropylene resin which can address the increasing demands of customers in meltblown textile applications. The new resin, Moplen HP461X, is produced utilising PolyMirae's state-of-the-art manufacturing technology...
Read More »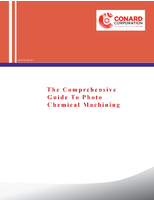 There are many benefits that photo chemical machining can provide for your precision components. Download this white paper, and learn everything you need to know about this versatile process.
Read More »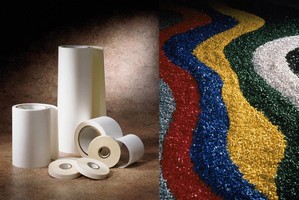 Adchem Corporation, leaders in high performance film and foam bonding pressure-sensitive adhesive tape systems, offers a wide range of bonding solutions that, when coupled with SABIC Innovative Plastics Noryl Resin, serves a wide variety of applications for virtually every industry, including, automotive, electronics, fenestration, medical and transportation. Many of these tapes systems also meet...
Read More »
October, 5, 2007 - As part of a product initiative to address the emerging demands of manufacturers across a wide range of customer packaging applications, Basell has introduced three new, innovative polypropylene (PP) resins. Marketed under the trade names Adstif HA740J, Higran RS1684 and Moplen EP310K, the new resins are selected by customers for use in food packaging applications. "Competitive...
Read More »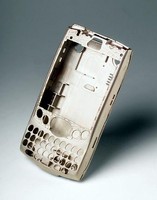 COLUMBUS, Ohio-Rapid prototyping, manufacturing and product development company, Laser Reproductions, has joined with stereolithography resin leader DSM Somos and metal plating experts RepliForm Inc. in offering Metal Clad Composite prototypes to its customers. Introduced in 2006 by DSM Somos and RepliForm, Metal Clad Composites (MC2) represent the merging of two technologies to deliver metal...
Read More »
Building on their patented clear resin technology, leading rapid prototyping resin innovator DSM Somos® has announced the commercial availability of WaterClear® Ultra, a highly clear, colorless stereolithography (SL) resin. In color comparison testing, WaterClear Ultra has been shown to be the clearest SL resin available on the market today. Using a colorimeter (an instrument used to measure...
Read More »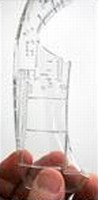 Able to produce parts that look like clear engineered plastic, WaterShed® XC 11122 exhibits performance characteristics similar to ABS and is suited for parts such as lenses or clear covers used in automotive, medical, and consumer product applications. Resin-based solution is formulated with DSM Somos Oxetane Advantage(TM), a chemistry platform that produces parts with water resistance and...
Read More »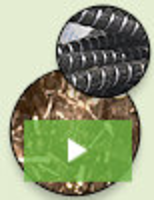 Fiber Reinforced Polymers (FRP), represents a truly groundbreaking advancement in structural reinforcement. Lightweight, strong, and green, they are changing the way the construction industry thinks about rebar. Unlike steel, FRPs don't rust and are far stronger than standard rebar. To learn why Fiber Reinforced Polymers are poised to change the way the world builds, see our video.
Read More »