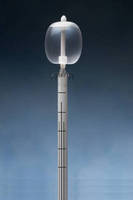 Custom melt filtration of polymers used for catheters and balloons can remove more than 80% of gels, as small as 0.0008 in., and other contaminants that can affect tube or balloon performance. Process can be performed on materials including nylons, urethanes, and Pebax® thermoplastic elastomers. It improves quality of vascular catheters and balloon products, which will maximize clinical...
Read More »
ATLANTA, -- Kaplan IT Learning, a leader in collaborative eLearning solutions, today announced a new Software as a Service (SaaS)* offering that greatly simplifies the purchase and use of Kaplan's Atlantic Link software, the award-winning rapid eLearning development solution. The Atlantic Link SaaS model is an internet-based, full-service deployment for Atlantic Link software subscribers. For a...
Read More »
Global retailer now running accounting and HR applications in the cloud for more than 45,000 subscribers at all retail outlets SAN FRANCISCO, Oct. 6 - Salesforce.com (NYSE: CRM), the enterprise cloud computing company, announced that Fast Retailing Co., Ltd. has deployed the Force.com enterprise cloud computing platform as the company's IT platform for its accounting and HR systems. Fast...
Read More »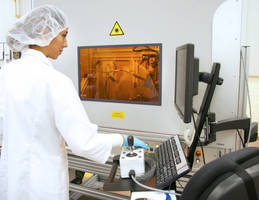 Weiss-Aug will be exhibiting at the upcoming Design & Manufacturing Midwest Show. On display will be our new booth showcasing the most up to date services and technologies we offer. In addition to our core competencies as a precision metal stamper, custom injection, insert, reel-to-reel molder, and provider of assemblies, some of the recent innovations in our capabilities on display will include:...
Read More »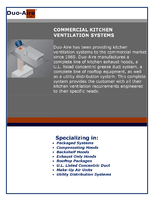 If you can't stand the heat, don't get out of the kitchen! Download this white paper and see how you can improve your commercial kitchen ventilation system.
Read More »
Suited for designers, animators, educators, and engineers, Custom Development Service extends functionality of any software application or simulation system. Service offers personalized creation of stand-alone solutions, add-ons, or plug-ins based on specific customer request. Tool expansions include creation of specific animation patterns, transformation of raw data to visual representations and...
Read More »
Matrox KVM extension graphics technology improves operator productivity and system security at South Africa's first single-call Emergency Service Center Montreal, Canada-Matrox Graphics, the leading manufacturer of specialized graphics solutions, today announced that in preparation for the world's premier international football event, the City of Cape Town has selected Matrox Extio Remote...
Read More »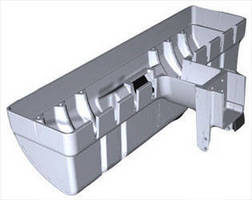 Responsible for creating foil seal found beneath cap of many pharmaceuticals, Induction Cap Sealer requires no active cooling. System utilizes controlled heat management and incorporates heat pipes to counteract large amounts of heat that is inherently produced by induction heat equipment.
Read More »
Evansville, Indiana - Evana Automation Specialists, a leading Systems Integrator and builder of custom, automated assembly and test systems, received three new contracts from a Tier-one Automotive Supplier, who is a leader in the creation and production of high-quality components and systems for the automotive industry's most demanding companies. Under the terms of the contract, Evana will build...
Read More »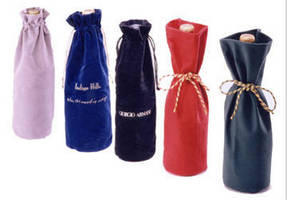 Designed for high-end packaging or point-of-purchase branding, Bottle Packaging Bags are available in wide range of colors, fabrics, designs, and finishes. Some examples include green flannel wine bottle bag with matching green/gold twisted cord, purple flannel bottle bag embroidered with gold, and rectangular bottle bag. In addition to liquor industry, bags are suited for beverage, water, or any...
Read More »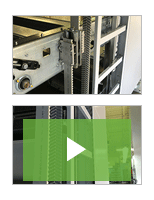 Megadyne's QST polyurethane timing belts take up less space and guarantee a lower noise level than chain and other traditional material handling belts. Check out our video to learn more.
Read More »