Singapore - Doodle Labs announces the launch of its Nexus Prism platform of high performance, embedded broadband radio modules that collectively span the 335 MHz to 960 MHz range. The Nexus Prism is a software-programmed frequency-translation technology that enables OEMs access to licensed Industrial, Military, and TV White Space spectrums. Ashish Parikh, VP of Business Development in North...
Read More »
LAS VEGAS -- 2011 INTERNATIONAL CES - Cobra Electronics Corporation (Nasdaq: COBR), a leading manufacturer of mobile electronic devices, and iSpeech-® (www.iSpeech.org), a leading mobile speech technology provider, are proud to announce their partnership today which will enable users with a BlackBerry or Android Smartphone to instantly listen and respond to incoming text and email messages in...
Read More »
Digital Radio Upgrade Provides Drivers with Superior Sound Quality, More Local FM Channels, Program Service Data, & iTunes-® Tagging COLUMBIA, Md. -- iBiquity Digital Corporation, the developer of digital HD Radio Technology for AM and FM audio and data broadcasting, today announced that Subaru of America, Inc. will offer HD Radio Technology on the Premium Radio package in the 2011 Forester,...
Read More »
Available in single- and multi-function models, Avastar(TM) Radios target always-on consumer electronics devices. Wi-Fi 802.11n units support 2.4 and 5 GHz modes of operation and offer 1, 2, and 3 spatial stream configurations with PHY data rates from 150-450 Mbps. Devices implement both 11n Wi-Fi access point and station mode and can operate in these modes concurrently. With embedded ARM...
Read More »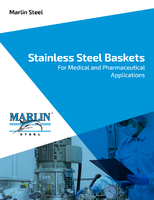 This white paper provides an in-depth overview into stainless steel baskets for medical and pharmaceutical applications.
Read More »
Operating from 8-30 Vdc, Model MM2-M13 operates in 1.3 GHz band, while Model MM2-MU operates in UHF band at 340-400 MHz. Units provide 1 W and 2 W transmitter power, respectively, extending range of radio to more than 60 miles. They feature receive sensitivity of -107 dBm and 230.4 Kbps max throughput for transferring critical data. Measuring 50.8 x 50.8 mm, radios are suited for weight critical...
Read More »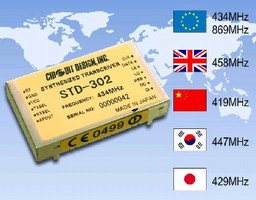 Intended for Europe and Asia, STD-302N-R Transceivers are available in 434, 869, 458, 447, 429, and 419 MHz versions. Pin assignment is same in all versions so that by changing frequency program to suit various frequencies, user can provide products that meet radio regulations of each country. Achieving accelerated TX/RX switching speed, modules are finding use in industrial telecontrol as remote...
Read More »
Common wireless broadband platform utilizes flexible modem technology allowing it to be used to support both WiMAX 802.16e access points and Long Term Evolution (LTE) evolved Node-B (eNodeB). LTE solution can include various radio options, including MIMIO and smart antennas. Comprised of various tower top and ground-based access point configurations utilizing MIMO B or smart antenna technology,...
Read More »
LAS VEGAS, Feb. 27 - (IWCE, Booth #208) - The city of Bangor, Maine, has installed advanced communications technology from Harris Corporation (NYSE:HRS), an international communications and information technology company, to significantly enhance its emergency response communications system. Bangor is using Harris-® NetXpress(TM) IP multiplexers, which enables its legacy radio systems to...
Read More »
Supplied in 10 mm BGA package, tiny radio modules combine 60 GHz transmitters and receivers with integrated antennas. Development system includes 60 GHz transmitter board and 60 GHz receiver board, each with USB controller. To facilitate setup and operation, embedded control firmware and GUI interface are included. Solutions enable commercial, government, and academic institutions to utilize...
Read More »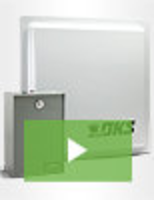 The DoorKing DKS AVI system is at the cutting edge of automotive security technology and represents a leap forward in engineering innovation. When it comes to long-range passive card readers, we lead the industry and set the standard for quality and performance. To find out why the DoorKing DKS AVI system is taking the automotive security industry by storm, see our video.
Read More »