Coupled to 13 L marine diesel engine, IPS1050 Inboard Propulsion System generates equivalent of 1050 hp, suitable for workboats, passenger ferries, and patrol boats up to 30 m and 40 knots. System is available as double, triple, or quad engine installation with forward facing and counter-rotating propellers. Acceleration and shifting are done with twin, single lever controls. Joystick provides...
Read More »
This whitepaper discusses key considerations for choosing a cleanroom equipment supplier: what to look for, types of cleanrooms & their standards.
Read More »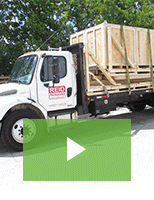 Reid provides mil-spec crates and corrugated boxes in custom dimensions from single to triple wall and will even package them on-site. Check out the video to learn more.
Read More »