Manufactured using additives that are FDA approved, Gaia(TM) AB 505 has been tested sccording to the AATCC Test Method 147-2004 standards and has successfully stopped growth of E-coli and staphylococcus. Properties allow material to be manufactured at high temperatures with decomposition range between 450-460°F. Gaia(TM) AB 505 is available in PE, PP, PS and PET carrier.
Read More »
CrystalClear PET UV additive masterbatch permits bottle molders and sheet processers to produce clear, non-yellowed packages with UV protection to preserve product integrity, color, flavor, and nutrition. Offering protection up to 380 nm, it is recommended with LDR of 0.5-1% for use in standard bottle applications. Product is FDA-approved and will not contribute to plate-out issues during molding.
Read More »
Acting as cooling agent, xCelmax(TM) increases crystallization temperature of polymers, and minimizes potential for defects and end product warping without typical process changes. Product is available in multiple pellet and bead sizes and can be incorporated into color and additive masterbatches without additional equipment. It is also suitable for use with polyolefin masterbatches that produce...
Read More »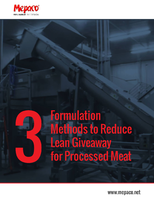 Download this white paper, and learn about three methods that can help you improve your bottom line and yield by reducing lean tissue giveaway.
Read More »
Engineered for use with ABS-M30 and ABS-M30i thermoplastics, SR-30 promotes dissolve times for FDM additive fabrication process. It is compatible with Fortus 360mc(TM) and 400mc(TM) additive fabrication machines, which use direct digital manufacturing (DDM) to produce parts directly from CAD data using additive fabrication. Using FDM with SR-30, engineers can create prototypes, manufacturing...
Read More »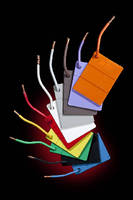 Suited for coloring complex melt processable fluoropolymer resins used as plenum space jacketing materials, MPFP Color Masterbatches come in 10 color-coding formulations matched to Munsell and RAL standards. Products are available in FEP and PVDF resin systems and are expandable to include other MPFP resins as needed. They maintain inherent flame retardancy and low smoke emissions that allow...
Read More »
FLORHAM PARK, NJ, March 19, 2009 -- BASF has received a new Food Contact Notification (FCN) from the U.S. Food and Drug Administration (FDA) that broadens the use of Joncryl ADR4368-C and Joncryl ADR4368-CS functional additives in packaging applications. FCN#853 states that the additives may be used in the manufacture of single-use food packaging*. Joncryl additives are reactive polymers that,...
Read More »
Date: March 12, 2009 MIDLAND, MICHIGAN, USA: Dow Corning Corporation, a leading supplier of silicone solutions, will feature innovations and products from its coatings and construction chemicals industry segments at the European Coatings Show, March 31-April 2 in Nuremberg, Germany. At the European Coatings Show, Dow Corning will offer: o Resources to design for versatility: Dow Corning offers...
Read More »
Technology meets increasing market demands for sustainable technologies and processes OAKDALE, Minn. - November 6, 2008 - Dyneon, a 3M company, is leading the industry with the introduction of its new emulsifier, Dyneon(TM) ADONA(TM) Emulsifier, which eliminates the use of ammonium perfluorooctanoate (APFO), a salt derived from perfluorooctanoic acid (PFOA), completely from its production of...
Read More »
PHILADELPHIA-- Specialty materials company Rohm and Haas (NYSE:ROH) recently introduced a major innovation in additives for cellular PVC trim manufacture that is performing even better than expected. The new product, Paraloid(TM) SureCel(TM) foam cell stabilizer, is a completely new technology platform that helps manufacturers, retailers and builders better capitalize on the acclaim and growing...
Read More »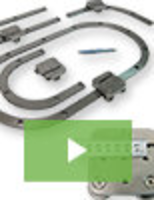 For the ultimate in precision open and closed loop guided motion systems, TPA Motion is the leader in curved rail, liner guides. We specialize in engineering excellence, with products that exhibit an elevated level of precision, delivering robust performance, even under the most challenging conditions. See our video to learn more.
Read More »