(WEST FARGO, N.D.) Bobcat has announced its 2012 lineup of light construction products, featuring a revamped line of air compressors, generators and pressure washers, as well as compaction equipment, including plate compactors and upright rammers. Powered by fuel-efficient, Honda engines, these durable models are designed to provide reliable performance for jobsite development and cleanup...
Read More »
Equipment Synergy International (ESI) was unveiled at the World of Concrete 2011 in Las Vegas. The company displayed their walk-behind power trowels, gasoline & diesel powered rammers and vibratory plate compactors. The equipment is being manufactured especially for ESI-USA by the company's Singapore based partners. This equipment was well received by the contractors and distributors who ran the...
Read More »
With standard compaction width of 67 in. and 51 in. offset feature, Model CD54 provides total compaction width of 118 in. Compactor is powered by 4-cylinder Cat® 3054C turbo-charged engine, which provides 99.5 hp at 2,200 rpm and meets U.S. EPA Tier 2 emission requirements. Equipped with front and rear pivoting split drums and 4 steering modes, Model C54 enables 110 in. inside turning...
Read More »
Model BW145D-40 and BW145DH-40 smooth drum rollers and BW145PDH-40 padfoot roller feature 75 hp engine and maintenance-free exciter system and brakes. All 56 in. units deliver frequencies of 2,040 vibrations/min and generate 22,500 lb of centrifugal force in high amplitude/11,250 lb in low amplitude. They include vertically opening engine hood, vibration-isolated operator's station, and...
Read More »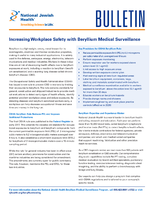 To learn more about how you can develop a workplace safety plan that follows OSHA regulations and fits your company's specific needs, download now.
Read More »
Featuring 14.75 hp air-cooled diesel engine, BPR100/80D reversible vibratory plate compactor is suited for granular, cohesive, and mixed soils. Vibratory exciter design provides working speed of 88.6 fpm and gradeabilty to 35%, while unit's maximum vibration frequency is 3,360 vibrations/min and centrifugal force is 22,500 lb, both adjustable via throttle control. It includes Economizer system...
Read More »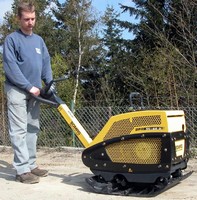 Suited for work on granular, cohesive, and mixed soils, models BPR35/60 and BPR35/60D are respectively powered by fully enclosed 5.4 hp Honda air-cooled gas engine and 4.16 hp Hatz air-cooled diesel engine. Vibratory exciter design lends to working speed capabilities, as well as gradeability, on all types of soil. Both models have max vibration frequency of 4,800 vibrations/min and heavy-duty,...
Read More »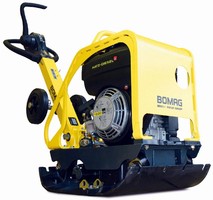 Measuring less than 16 in. wide, BPR25/40 series is optimized for maneuverability and centrifugal force. Honda 5.36 hp air-cooled gas engine powers BPR25/40, while Hatz 4.15 hp air-cooled diesel engine powers BPR25/40D. Featuring max frequency of 5,100 vibrations/min, both are suited for work on granular material as well as cohesive and mixed soils in landscaping, site prep, and other mid-size...
Read More »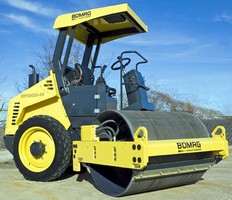 Featuring one 47 in. drum, BW124DH-40 smooth drum roller and BW124PDH-40 padfoot roller are powered by Tier 3 Deutz diesel engine and offer all-around visibility. Centrifugal force and amplitude are optimized for compacting granular and mixed soils as well as semi-cohesive and cohesive materials. While no-spin rear differentials and standard drum drive achieve optimal gradeability, bolt-on...
Read More »
Powered by Honda GX120 4-cycle gasoline engine, Model BXR-60H, with 14 x 19 in. plate, offers 3,417 lb centrifugal force and is recommended for max compaction depth of 13 in. Model BXR-200H, powered by Honda GX240 4-cycle gasoline engine, delivers 7,053 lb of centrifugal force and can compact at depth up to 18 in. It features 18 x 29 in. plate and can cover 5,231 sq-ft/hr. Both vibratory plate...
Read More »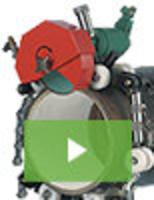 CS Unitec is a leader in power tools designed for industrial applications, with products that set the standard for robust performance and industry-leading reliability. Adding to our long list of innovation is a new line of pipe cutting machines. For cutting and beveling pipe up to 2" in thickness and diameters from 12" to 63", no other cutting system comes close. See our video to learn more.
Read More »