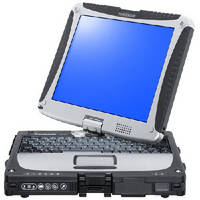 Incorporating Intel-® ultra low voltage Core i5-®-540UM processor, Toughbook CF-19 leverages Intel-® Turbo Boost Technology and Intel-® Multi-Threading to maximize CPU performance. Rotating screen, measuring 10.4 in., uses Circular Polarizing technology for 1,000 nits brightness. Gobi 2000 mobile broadband technology from Qualcomm facilitates multi-carrier wireless deployments and adds A-GPS...
Read More »
Utilizing Intel Core 2 Series processors, XPC Barebone SG41J1 Plus includes Intel GMA X4500 graphics chip suited for office applications. Unit provides 32-bit PCI slot and PCI Express x16 slot for system expansion. Chassis accommodates up to 2 hard disks and 1 optical drive. Additional features include 250 W power supply and variety of interfaces, including USB 2.0, PS/2, parallel and COM ports,...
Read More »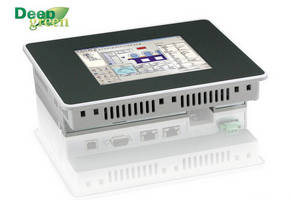 Kontron's panel PC chosen for its small, efficient design that helps developers integrate green into new products Poway, CA, May 12, 2010 - Kontron today announced that the panel PC Pico Client has received a Deep Green Editor's Choice award from Embedded Computing Design magazine on April 14, 2010. The Kontron Pico Client was singled out by editors for its ultra-small package and low power...
Read More »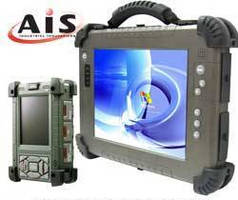 Able to survive harsh mobile environments, Military Ruggedized Tablet is powered by 1.6 GHz Intel-® Atom(TM) Processor N270 and has integrated touchscreen. Aluminum-magnesium alloy construction, which offers individually sealed ports for complete IP54 protection, is engineered to Military 810F shock, vibration, temperature, humidity, dust, and drop standards. Other features of this 10.4 in....
Read More »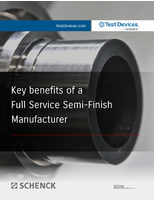 Check out this white paper to learn what to look for in a manufacturer of rotating parts.
Read More »

Offered in 15.4, 17, and 19 in. sizes, E-Saver Widescreen Panel PCs include Intel Atom fanless 1.6 GHz processor, 2 GB DDR2 memory, and 80 GB hard disk. Units integrate high resolution TFT touchscreen supporting 16.2 million colors, protected by industrial-grade metal housing. Including two Gigabit Ethernet ports, 4 USB ports, and 2 Serial ports, system features Web Studio SCADA starter-kit and...
Read More »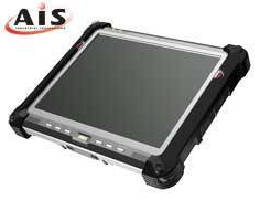 Powered by 1.6 GHz fanless Intel-® Atom Z530 processor, 10.4 in. Rugged Tablet PC operates up to 6 hours by battery and is intended for mobile point of sale, data entry, and monitoring. Portable terminal includes 3.5 G WWAN, WiFi, and Bluetooth technology, as well as touchscreen display with transflective LED technology, providing sharp text in all environments, including outdoor sunlight....
Read More »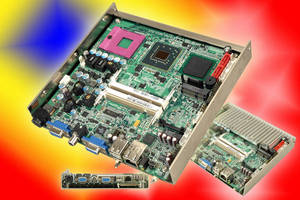 Mini-ITX form factor motherboard EBC-965 supports Socket P Core 2 Duo CPU with 800 MHz FSB, up to 4 GB of DDR2 memory, and runs under GME965 system chipset. Driven by integrated Intel GMA X3100 high performance graphic processor, it supports dual VGA and TV out, and is suited for use in public information points, kiosks, multi-media displays with audio for retail stores, or exhibitions. Features...
Read More »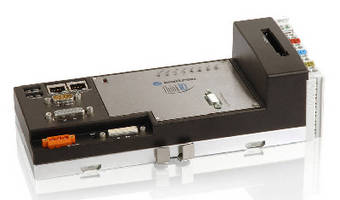 Equipped with 1.06 GHz Intel-® Celeron-® M processor, ThinkIO-Solo includes 1 GB RAM, up to 4 GB soldered internal flash, and 512 KB non-volatile memory. Fanless unit is housed in aluminum with Compact Flash socket for adding mass storage, standard PC interfaces, industrial Ethernet, and modular I/O interface option. Interrupt capable onboard inputs can be used to trigger rapid response to...
Read More »
Based on T9400 Intel-® Core(TM)2 Duo-® mobile processor, Tadpole-® TOPAZ features up to 8 GB DDR3 SDRAM and 15.1 in. DynaVue-® daylight-viewable display with optional touchscreen. Three segregated Ethernet ports enable access to multiple networks operating at different levels of information security. Conforming to MIL-STD-810F and MIL-STD-461E, notebook is suited for military power-users,...
Read More »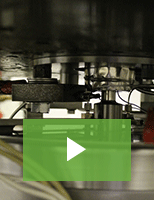 Test Devices helps you ensure the safety and efficiency of your high performance machines with cutting edge spin testing, rotor engineering, and precision balancing capabilities. Check out the video to learn more.
Read More »