Enabling bar-fed CNC lathe to run unattended for extended periods of time, Royal Rota-Rack Accumulator indexes each time finished part exits machine, safely collecting finished workpieces. System consists of heavy-duty welded steel turntable, solid-state PLC control, and optional integrated conveyor. All contact surfaces are covered with a high-lubricity UHMW plastic. Turntable has 1 m diameter,...
Read More »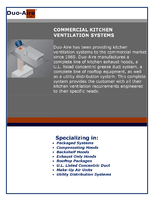 If you can't stand the heat, don't get out of the kitchen! Download this white paper and see how you can improve your commercial kitchen ventilation system.
Read More »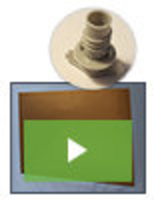 As a globally recognized provider of full-service packaging products and services, we have a history of developing innovative solutions that promote enhanced efficiency in a wide range of packing applications. Our new AIRSHIELD™ product is just another example of how we are helping food and beverage manufacturers to extend the life of their products. To learn more about this cutting-edge product, see our video.
Read More »