ALPHARETTA, Ga. - Neenah Paper (NYSE: NP) announced the purchase of the branded premium paper portion of Wausau's Fine Paper division on Jan. 31, 2012. The acquisition of Wausau brands strengthens the breadth of our existing Fine Paper business with added scale in the marketplace, prospects for growth in new channels such as retail, and the opportunity to provide our customers with better...
Read More »
Kemiart Graph+ (115-250 g/mÂ-² / 24-51 lb) and Kemiart Lite+ (130-200 g/m² / 27-41 lb) feature double coating that provides smooth, glossy surface for printability with enhanced ink laydown, color brightness, and detail accuracy. While Kemiart Graph+ has been developed for flexo preprint as well as offset, screen, and water-based inkjet printing, Kemiart Lite+ is designed for flexo...
Read More »
Many exciting wallpaper design trends are underway, all requiring a base that offers high performance, strength, flexibility and good environmental credentials. M-real, the world's leading producer of wallpaper base, is showing its full Cresta range at Heimtextil 2012 with products that support the latest design and decorating trends, and support sustainability. We are seeing designs that include...
Read More »
Combined Locks, Wis. - Appleton Coated has transitioned its renewable electricity purchasing to renewable energy credits (RECS) from Green-e® certified energy sources. Now, Green Power is a standard offer in five grades of the Utopia® brand of coated printing papers: Utopia Premium, Utopia One (sheets and web), U1X:Green (sheets and web), Utopia Two (sheets) and U2:XG (sheets and...
Read More »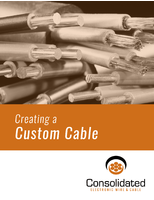 Consolidated Electronic Wire & Cable's new eBook, Creating a Custom Cable, reviews the key elements to designing your perfect custom-made cable solution.
Read More »
Buffalo, NY, October 17, 2011 - Multisorb Technologies, the world leader in active packaging technology, has announced that they will be exhibiting at PROCESS EXPO 2011 on November 1-4. Multisorb will have food packaging experts on hand to discuss how active packaging can extend product shelf life and preserve the quality characteristics that consumers have come to expect. Color of food, meat in...
Read More »
TRUMBULL, Conn. - Oce, a Canon Group Company and an international leader in digital document management, today announced the availability of three new substrates for use in the Oce ColorWave® 600 printer. They join an ever-broadening selection of media in the Oce Premiere Collection designed for robust performance and longevity. Oce 6008 Outdoor Polypropylene Film is designed for indoor or...
Read More »
Cortec® Corporation, a world leader in innovative, green, sustainable technologies has spent many years of dedicated experimentation to introduce our BioCortec® range of corrosion control products. Our mission is to develop eco-efficient products made from sustainable materials that are compostable and biodegradable; combining new technologies that have positive effects on the environment...
Read More »
Designed for use with Oce Arizona® Series UV flatbed printers, VACUBOND Paper can be used to print template for accurate placement of pre-cut items on vacuum table. Operator aligns items to template and begins printing. Paper then serves as mask to protect vacuum table, particularly when overprinting pre-cut items. Available as 48 in. W x 500 ft L roll, 17 lb recyclable paper strikes...
Read More »
GARDEN GROVE, Calif., May 18, 2011 - Media One USA Launches Extensive Line of Fabrics and Low Cost Photo Paper for Latex Printers. Media One USA, the leaders to direct to fabric printing solutions, launch a Latex Fabric line with Fire retardant Certificates for North America & Europe. These fabrics are specifically designed for Tension Frames ( Eco Display Light & Heavy), Banner Stands (Crease...
Read More »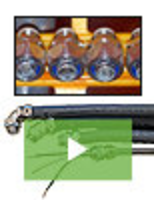 Anamet Electrical's 316 Stainless steel SEALTITE® fittings and UL-listed cord grips protect sensitive wiring components from fluids, corrosive contaminations, bumps, and abrasions with a steel core and liquid tight conduit jacket. Check out this video to learn more.
Read More »