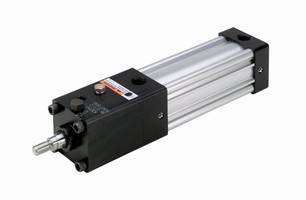 Designed for clamping, load holding, or E-stop applications, Series 3MA and 4MA cylinders hold loads in static condition while air pressure is removed from system. Available in 7 bore sizes ranging from 1.125-5.00 in., low friction 3MA cylinders have maximum operating air pressure of 250 psi and operating temperature range of -10 to +165°F. Intended for customization, 4MA units feature -50...
Read More »
Designed for defibrillator pads and disposable EEG and EKG sensors, Models AGCL-510 and AGCL-675C silver chloride inks are used for gravure/flexographic, screen, and pad printing. They adhere to polyester, polyimide, polycarbonate, vinyl, urethane, and other plastic substrates. Featuring crease resistance and surface hardness, inks can be custom blended to adjust resistance values for required...
Read More »

Diode-pumped TD410 laser marking system produces high definition marks on metals and plastics. It is capable of marking bar codes including UID and QR Codes as well as 2D datamatrices, text, and logos. Control of traceability data is provided for date, time, serialization, shift codes, control of variable data, and interfaces with external databases. Air-cooled unit has lifetime greater than...
Read More »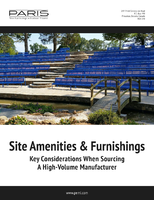 This white paper looks at the six key considerations when sourcing a high-volume manufacturer of site amenities and furnishings. Download now to find out more.
Read More »
Affordable color printing options open up 'TransPromo' opportunities EL DORADO HILLS, Calif., May 1 /-- DST Output, one of the largest and most experienced statement and billing output providers, today announced that it has completed a two-year implementation of its advanced high-speed, color printing and inserting platform called Digital Press Technology or DPT. With this innovation, DST Output...
Read More »
Designed to fit standard size residential windows (37 x 60 in.), ImpactShield(TM) consists of impact-resistant, high-strength translucent fabric stretched over window to create hurricane-resistant barrier. Fabric is stored in weather-resistant housing compartment located outside just above window, which can be painted any color to match user's house. With ability to attach outside of wall with...
Read More »
Greenville, Wis. (May 10, 2007) - QComp Technologies, Inc., an authorized ABB robotics integration company, announced today it will offer the new Virtual Pallet Dispenser VPal software option with its automatic guided vehicles (AGVs). The VPal AGV software enables the AGV to find and deliver an empty pallet to a manual or automated palletizer, as well as pick up full loads and deliver them to a...
Read More »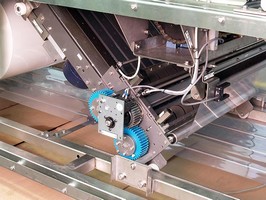 Capable of operating speeds to 100 trays/min, Continuum film wrappers and tray/shrink systems come with direct drive film feed module for applications in food and beverage industries. Module, engineered with servos, consistently feeds, cuts, and delivers clear or printed film to wrapper wand. It also incorporates features to handle static-charged film. Open design provides access to all...
Read More »
Featuring stainless steel contact surfaces, Weigh Batching System discharges material from bulk bags, de-lumps product, and feeds it gravimetrically into rigid bins. Bulk-bag-to-hopper interface consists of manual Spout-Lock® clamp ring at top of pneumatically actuated Tele-Tube® telescoping tube. Pneumatically actuated Power-Cincher® flow control valve cinches bag spout...
Read More »
Model FLT1020 vial filling system processes vials from 16-52 mm in diameter, 25-95 mm in height, and with 13-22 mm neck finish for pharmaceutical packaging. Requiring no sized parts for different vial diameters, system offers variable tray size options of 8-15 in. width and 12-18 in. length. Other features include maximum throughput of 30 vials/min, linear table top design, and compatibility with...
Read More »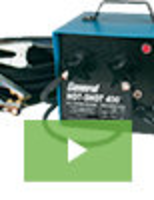 The new Hot Shot Pipe Thawing Machine delivers an innovative and highly effective approach to thawing frozen pipes. Easy to use and versatile, it is loaded with robust features that further suit it to many challenging environments. To learn all about it, see our video.
Read More »