The Stylus CX4300 features Epson's DURABriteTM Ultra Ink and offers fast printing and copying speeds, and high quality scanning capabilities June 24th, 2007 Epson has recently announced the Middle East launch of its Stylus CX4300, the ideal A4 all-in-one for the home and home office with fast print speeds up to 25ppm. With superior print, scan and copy capabilities, the CX4300 features Epson...
Read More »
Firwin Corp, a Toronto-based manufacturer of removable insulation blankets, announced recently a new addition to its product line: Pro-Tec-To(TM) Spiral Hose Wraps, used to protect hydraulic hoses against abrasion and crushing. "Although our primary business is the manufacturing of insulation blankets, we will take on additional products that we see as complementary", said Paul Herman, Firwin's...
Read More »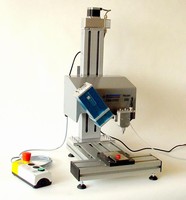 Borries supplies dot peening marker to fit aircraft industry standards Ann Arbor, MI-A unique solution for the aircraft industry's need for high-precision geometrical parts marking is Borries Marking System's Model 350 dot matrix machine with integrated image processing for complete marking verification for traceability and lot control. Designed to meet AS 9132 requirements for Data Matrix codes,...
Read More »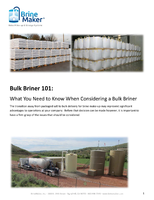 If you're thinking about switching from packaged to bulk salt, check out this white paper and see if a bulk briner is right for your application.
Read More »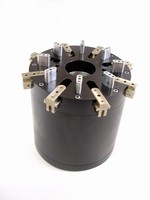 Able to spread and place up to 12 in. ID seals, AGP-8-OR facilitates part ejection and part seating. Pneumatic parallel gripper offers independent spreading and ejector movements and has 1.5 in. dia through hole. It can be tooled to accommodate all types of rings from .5-12 in. ID, and end of stroke sensing is available. While 8-jaw AGP-8-OR measures 5 in. dia x 5 in. tall, 6-jaw version...
Read More »
Using CO2 laser, non-pigmented PERGAMARK(TM) yields stable, high-contrast black image, enabling variable data such as best before dates, serial numbers, and addresses to be printed on demand at high speed in final stage of packaging process. With all non-toxic additives, system eliminates ink at point of printing and solvents in packaging lines. All components are in line with food contact...
Read More »
Designed for wet or dry corrosion protection of ferrous metals and aluminum, VpCI 609® Biodegradable Powder creates monomolecular inhibiting layer on metal surface that lasts for up to 24 continuous months. Water-soluble Vapor phase Corrosion Inhibitor (VpCI(TM)) powder does not contain nitrites or phosphates and can be applied in dry form by dusting, fogging, or sprinkling or in aqueous...
Read More »
PEM® metal/plastic access hardware ordered with custom ABS cap colors allow for color-coding or matching in an assembly to offer specific practical functions. The color caps can serve as visual identifiers to "flag" components, designate restricted or limited access areas, or correlate with equipment instructions. They can also be specified to match the color of a panel or other component or...
Read More »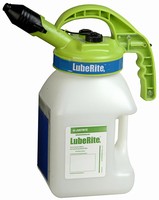 Designed to facilitate filling, dispensing, and refilling, LubeRite(TM) rust-proof polyethylene containers protect lubricants from dirt and dust. Fully sealed, gasketed system with quick fill port further minimizes potential for contamination, and on-off nozzles facilitate dispensing to awkward points to speed lubrication jobs. Containers come in 3 sizes with 3 different nozzle diameters, each...
Read More »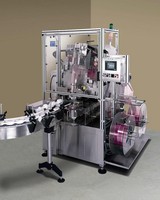 Suited for food and diary product packaging, tamper-evident F-Series Shrinkbanders are fully mechanical and do not use vacuum or pneumatics. They apply tamper-evident bands 1-1.6 in. high to large diameter tubs and containers used for various applications, and accommodate band dia from 2.5-6.75 in. Built to UL standards, fully enclosed, stainless steel systems interface with Smooth Diversion...
Read More »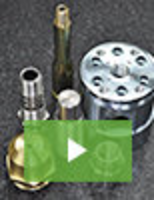 Quality, customer service, and unbeatable value are the hallmarks of Hogge Precision. Since 1989 we have built a reputation as the go-to precision machining source, servicing many demanding industries. For CNC machining and screw machining, there are few manufacturers that can match our capabilities and expertise. See our video to learn more.
Read More »