Designed to ISCsilver(TM) Ambient Temperature Profile, Certis Silver packaging solutions offer temperature assurance for moderate distribution environments. Shippers feature Thermophase(TM) powered by PureTemp(TM), a formulation of natural vegetable-based phase change materials for strict temperature control. ThermoPhase materials are non-hazardous, environmentally friendly, and available to meet...
Read More »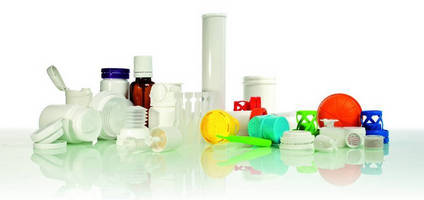 Marlton, NJ, - Innovative, unique and user-friendly solutions: Sanner of America, the US subsidiary of Sanner GmbH, presents a showcase of its plastic packaging solutions for the pharmaceutical and healthcare industries on May 1-3 at Interphex 2012 in New York. New products on display at Booth 2478 include Sanner's revolutionary and cost effective 360Â-º" Capsules allowing moisture...
Read More »
Industrial Custom Products, Minneapolis, Minnesota has solved another customer's challenge with a high quality, cost effective, thermoformed product delivered on time. Retailer Problem A nationwide retailer with 1,100 stores across the United States was having difficulties finding an efficient and timely way to change in-store advertisements and pricing in an efficient and cost effective manner...
Read More »
Suited for hygiene and personal care products, batteries, writing instruments, and confections, SliderPak(TM) eliminates post-purchase product scattering and disorganization that typically occurs with multiple-unit packaging. Products are dispensed one unit at a time, resulting in organized space. Designs are custom engineered to accommodate exact specifications and branding requirements of each...
Read More »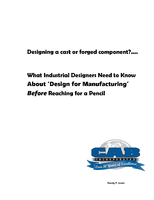 To learn more about how you can save time and money with design for manufacturing strategies, download now.
Read More »
As an environmentally friendly alternative to traditional clam shell packaging, trapped blister packaging includes recycled materials and minimal plastic content while delivering high visibility as well as shelf impact and tamper resistance. Packaging supports printing on both sides and can be thermoformed to shape of product, die cut, and contract packaged. As opposed to all-plastic packaging,...
Read More »
WorldPressOnline First Call - Bart Spices, one of the UK's leading ingredients suppliers, has selected the 350ml size Clip Jar from RPC Bramlage for a specialist gourmet spiced sugar, produced for a leading food retailer. Part of RPC Bramlage's standard range and available in four sizes - 50ml, 125ml, 200ml and 350ml - the Clip Jar offers a modern and robust plastic pack that echoes the look of...
Read More »
SADDLE BROOK, N.J. and GREEN ISLAND, N.Y., Thursday - Sealed Air Corporation (NYSE: SEE) and Ecovative Design LLC are pleased to announce that they will work together to accelerate the production, sales and distribution of Ecovative's EcoCradle® Mushroom(TM) Packaging, a new technology for environmentally responsible packaging materials made from agricultural byproducts and mycelium, or...
Read More »
RICHMOND, VA - Acoustical Solutions based in Richmond, VA is the industry leader in soundproofing and noise control products. With a wide product selection, and business being done all over the country as well as internationally, mailing out samples has become a daily routine. We get sample requests for every color and texture of acoustical fabric, foam, panels, and anything else you can find in...
Read More »
Intended for chocolate manufacturers, Single-Wrap Die-Fold Package has airtight hermetic seals to maintain product freshness while protecting against insects and moisture. It also preserves original aromas and flavors while denying penetration by external scents. For symmetrical side and longitudinal seals, package is produced by Starpac 600 HL machine, which uses folding box to create all folds...
Read More »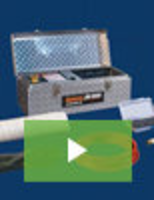 The lightweight, compact JM-1000 Mini-Jet clears grease, sand, and ice with a high pressure water jet.
Read More »