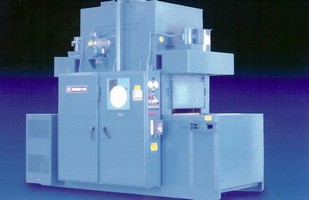 No. 894 is a 650°F electric heat belt conveyor oven from Grieve, currently used for sintering Teflon material onto flat sheets at a customer's facility. The workspace dimensions of this unit measure 30"W x 48"D x 15"H. Workloads travel on a 24" wide, 1/2" x 1/2" 316 stainless steel conveyor belt, driven by a 1/4 HP motor drive, variable from 0.4 to 8.4 inches per minute. An 18" long open...
Read More »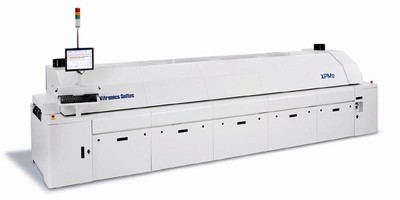 Stratham, New Hampshire, USA - Customers of Vitronics Soltec's successful XPM2 Reflow System can now get all of the performance and reliability that the system is known for, plus some enhanced features, in the XPM2+. There's a lot that's new, while the exterior of the XPM2+ boasts a better, leaner look, the main enhancements are to its conveyor system; cooling system; electrical control system;...
Read More »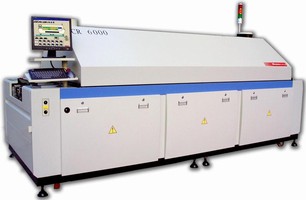 Forced hot air Pb-free CR reflow system, CR6000, is computer-controlled, measures 12.5 ft long model, and has 6 individually managed upper and lower heat zones. Designed to meet temperature and process control requirements of lead-free processes, system's large-oven capabilities include DT of ±2Â-ºC edge-to-edge heating conformity integrated with 3-channel profiler and motor-adjustable...
Read More »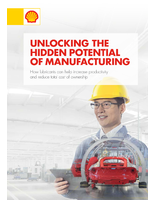 This paper illustrates how manufacturing companies have successfully worked with Shell Lubricants to upgrade their lubrication and extract value by reducing TCO and improving equipment productivity.
Read More »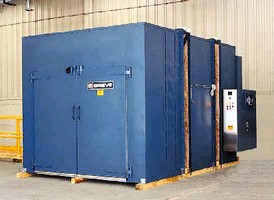 Offering workspace dimensions of 84 x 102 x 78 in., electrically heated No. 808 utilizes 420 kW Incoloy sheathed tubular elements and 17,500 cfm, 15 hp recirculating blower motor that provides combination airflow to workload. Oven includes 4 in. thick insulated walls throughout, two 30 x 24 x 6 in. stainless steel HEPA filters for exhaust air, and twelve 24 x 24 x 6 in. stainless steel 65% ASHRAE...
Read More »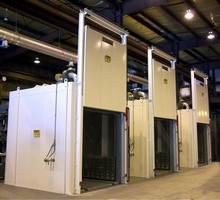 Wisconsin Oven designed and manufactured three (3) gas fired batch ovens to cure ceramic coatings on assorted parts for the Aerospace industry. Each oven has combination airflow, work chamber dimensions of 6'0 wide x 7'0" long x 8'0" high, and 650Â-º F maximum operating temperature. This customer requested Wisconsin Oven help them with several of their production issues. The problems were...
Read More »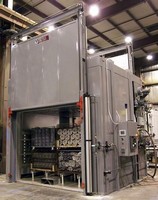 October 23, 2007 Wisconsin Oven designed and manufactured a gas fired batch oven for aging assorted aluminum parts. The oven has work chamber dimensions of 9'0 wide x 9'0" long x 7'6" high and a maximum operating temperature of 600Â-ºF. The customer needed to alleviate a bottleneck in their production process and asked Wisconsin Oven to design a system to shorten their aging process time. A...
Read More »
Providing safe drying through homogenous temperature distribution, Series VD for non-flammable solvents features expansion racks and individually programmable controller. VDL series is suited for drying flammable, organic solvents and includes interior chamber designed in accordance with ATEX Directive for Zone 2 while VDL series EX-Zone 2 is for operation in explosion hazard areas. Ovens provide...
Read More »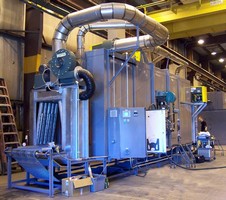 Built with 20 ft 4 in. x 2 ft 6 in. x 3 ft 6 in. work chamber, 300Â-ºF oven performs 51 sec blow-off, 9 min drying at 250°F, and 1.8 min cool-down. Prior to entering oven, aluminum replacement coils are leak tested by placing coils in water bath and pressurized with air. Water load processing capability is 180 lb/hr, and coils are processed through drying system at 60 units/hr. Along...
Read More »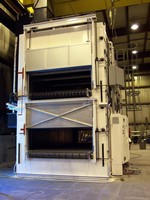 June 28, 2007 Wisconsin Oven designed and manufactured an electrically heated belt conveyor oven with two (2) decks, top-down airflow and a cool down. This oven is used for curing adhesive on motorcycle rear fenders. Each work chamber is 5'9" wide x 19'3" long x 2'2" high. This oven was designed with 4" tongue and groove panels, and the equipment included a horizontal split line for ease of...
Read More »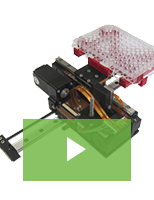 TPA Motion's microplate handling robots are designed specifically for medical instruments and lab automation devices. Check out the video to learn more.
Read More »