-· Rhino XT(TM) 90A - For Extreme-Condition Outdoor Applications · Rhino HD(TM) 55D - For Indoor, High-Humidity Commercial and Industrial Applications · Rhino Hi-Chem(TM) 65D-PW - Now Certified for Potable Water Applications SAN DIEGO, CA - June 25, 2007 - Rhino Industrial(TM), a strategic business unit of Rhino Linings USA, Inc., has introduced three new additions to its growing family of...
Read More »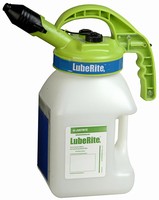 Designed to facilitate filling, dispensing, and refilling, LubeRite(TM) rust-proof polyethylene containers protect lubricants from dirt and dust. Fully sealed, gasketed system with quick fill port further minimizes potential for contamination, and on-off nozzles facilitate dispensing to awkward points to speed lubrication jobs. Containers come in 3 sizes with 3 different nozzle diameters, each...
Read More »
Verso(TM) cDNA synthesis kits and one-step reverse transcription-polymerase chain reaction (RT-PCR) kits combine reverse transcription enzyme, priming options, and optimized buffers to generate full length cDNA. They utilize Verso RT Enzyme that offers dynamic range for maximized sensitivity, allowing users to detect wide range of starting template concentrations. Several kit options are...
Read More »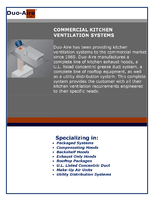 If you can't stand the heat, don't get out of the kitchen! Download this white paper and see how you can improve your commercial kitchen ventilation system.
Read More »
Employing 2 cameras, SOLO TWIN offers point-and-shoot functionality and 70° field of view that lets operator get close to assembly tooling that needs to be measured for certification and alignment. Within 15 minutes, unit makes it possible to set-up measurement system; tie-in to coordinate system; perform measurements of critical assembly tool features; verify measurement data relative CAD...
Read More »
NeoCon Awards Recognize Outstanding Design Innovation in Tables, Furniture Systems, Seating and Worksurfaces - CHICAGO, June 11 // -- Steelcase Inc. (NYSE:SCS), a global office environments manufacturer, today announced that the Steelcase family of companies was honored with six Best of NeoCon awards, including three Gold awards. Products recognized include seating, solutions for healthcare and...
Read More »
Single Part Connector Offers Fast Fit, Greater Reliability and Longer Life at Lower Cost PLYMOUTH, Mich., Feb. 28, 2007 - To help manufacturers build more robust products at less cost, Simrit, the industrial sealing products division of Freudenberg-NOK, is bringing its proven Plug & Seal plug connection technology to the Americas. Simrit's Plug & Seal connectors are specially designed to provide...
Read More »
Blow Molded Products, Inc. (BMP) in Riverside, California has expanded their well established line of high quality plastic blow molded carrying cases with a new addition. The new case size dimensions are: (18' x 10 x 3": Outer Dimensions), and (16.5" x 9" x 2.75": Inner Dimensions). While some companies are finding business a little tougher these days, BMP has sustained their rapid growth by...
Read More »
Made of extruded PVC, Vynagrip slip resistance matting features aggressive tread with wide open grid for debris collection in dry spaces or rapid drainage in wet spaces. Chemical-, oil-, and acid-resistant product can be used in manufacturing or industrial environments, including those with inclines, and also helps reduce standing fatigue. Offered in 33 ft long rolls and half rolls with widths of...
Read More »
Equipped with heavy-duty brushless motor, solar-powered Repeller uses continuous motion to prevent large birds from landing. Rotating rods mounted on top of unit sweep birds off of streetlights, balconies, boats, and AC units. Two adjustable arms cover up to 5 ft in diameter by turning continuously at 30 rpm. Repeller can be mounted on flat or angled surfaces.
Read More »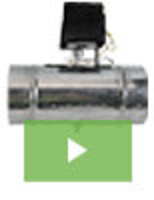 Alan Manufacturing has a long history of developing innovative solutions for HVAC applications. With over 1,000 product designs under our belt, we have gained a reputation as the go-to source for HVAC dampers, hardware, duct supports, zone control systems, and much more. Adding to this extensive list of achievements we now announce the release of our new line of Fresh Air Intake products. Designed to meet ASHRAE 62.2 standards, they are the most robust and high-performance product of their kind. See our video to learn more.
Read More »