- the first North American manufacturer with a full product line optimized for high-speed digital inkjet web platforms - Combined Locks, Wis. -- Appleton Coated, working jointly with HP, has developed a gloss coated product for use on the HP® Inkjet Web Press family. With the introduction of Utopia® Inkjet Gloss, Appleton Coated leads the industry as the only North American...
Read More »
Ahlstrom Corporation PRESS RELEASE - Ahlstrom Corporation, a global high-performance materials company, has taken part in the HP Registered Latex Development Program and a wide number of Ahlstrom's poster papers and wallcover substrates have met the HP compatibility standard. After successful completion of the certification tests on different large-format HP Latex printers, Ahlstrom has been...
Read More »
Designed for outdoor billboards, Ahlstrom Chantaffiche(TM) Metalized blends base paper for metalization and blueback poster paper for optimal visual impact, easy posting, and lasting stand-out. One-side coated paper provides metallic effect to posters for enhanced brand image and is intended to promote high-end products such as cars, watches, perfumes, beers, or fashion lines.
Read More »
ALPHARETTA, Ga. - Neenah Paper (NYSE: NP) announced the purchase of the branded premium paper portion of Wausau's Fine Paper division on Jan. 31, 2012. The acquisition of Wausau brands strengthens the breadth of our existing Fine Paper business with added scale in the marketplace, prospects for growth in new channels such as retail, and the opportunity to provide our customers with better...
Read More »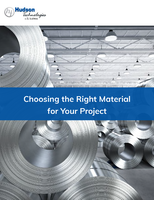 When choosing an appropriate metal material, the range of options is so broad that selecting the correct material for your unique application can be challenging. Different metals have characteristics that can affect weldability, ductility, and formability. Our new eBook outlines the unique properties and applications of popular metals including: Stainless Steel Brass Aluminum Copper Titanium
Read More »
Kemiart Graph+ (115-250 g/mÂ-² / 24-51 lb) and Kemiart Lite+ (130-200 g/m² / 27-41 lb) feature double coating that provides smooth, glossy surface for printability with enhanced ink laydown, color brightness, and detail accuracy. While Kemiart Graph+ has been developed for flexo preprint as well as offset, screen, and water-based inkjet printing, Kemiart Lite+ is designed for flexo...
Read More »
Combined Locks, Wis. - Appleton Coated has transitioned its renewable electricity purchasing to renewable energy credits (RECS) from Green-e® certified energy sources. Now, Green Power is a standard offer in five grades of the Utopia® brand of coated printing papers: Utopia Premium, Utopia One (sheets and web), U1X:Green (sheets and web), Utopia Two (sheets) and U2:XG (sheets and...
Read More »
Buffalo, NY, October 17, 2011 - Multisorb Technologies, the world leader in active packaging technology, has announced that they will be exhibiting at PROCESS EXPO 2011 on November 1-4. Multisorb will have food packaging experts on hand to discuss how active packaging can extend product shelf life and preserve the quality characteristics that consumers have come to expect. Color of food, meat in...
Read More »
TRUMBULL, Conn. - Oce, a Canon Group Company and an international leader in digital document management, today announced the availability of three new substrates for use in the Oce ColorWave® 600 printer. They join an ever-broadening selection of media in the Oce Premiere Collection designed for robust performance and longevity. Oce 6008 Outdoor Polypropylene Film is designed for indoor or...
Read More »
Designed for use with Oce Arizona® Series UV flatbed printers, VACUBOND Paper can be used to print template for accurate placement of pre-cut items on vacuum table. Operator aligns items to template and begins printing. Paper then serves as mask to protect vacuum table, particularly when overprinting pre-cut items. Available as 48 in. W x 500 ft L roll, 17 lb recyclable paper strikes...
Read More »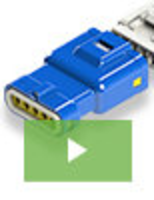 EDAC's new line of IP67 waterproof plug and socket connectors represent the cutting edge of waterproof connection technology. Part of the 560 and 572 series of connectors, they utilize innovative design concepts to deliver a level of performance and value that is unmatched in the industry. See our video to learn more.
Read More »