Featuring mimio® interactive technology, iPanel offers interactive control, data manipulation, digital pen, and graphic annotation tools. Complete presentation system includes interactive whiteboard, copy board, and projection screen, delivering high-density images, even in bright ambient light. Screen consists of micro-mirrors and utilizes no color pigmentation within imaging surface,...
Read More »
With 2 screws at each corner, 4-WayFrame can be assembled without special tools or installation crew. SekureFrame(TM) front-loading graphic frame system snaps open to facilitate graphic changes. Optional backer panels and anti-reflective protective lenses are available. While 9 standard frame dimensions are available, any size can be custom-made up to 46 x 94 in. poster size. It is available with...
Read More »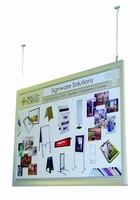 Designed for interior and exterior graphic display purposes, 2-WayFrame system features 2 frames that are combined back to back with hanging tabs for suspended applications. Each side of system opens to accept signage, and spring hinges are precisely sized to ensure quality sign opening and closing. Anti-reflective lenses protect graphic panel from moisture and dirt. Product offers 9 graphic...
Read More »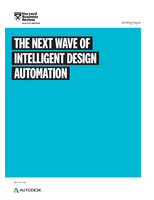 In the amount of time it takes to set up a meeting to discuss just one design, engineers can now explore designs exponentially. Generative design has catalyzed a paradigm shift in product development. This shift not only drastically decreases the time it takes to design a product. It also opens the door to design options that might never have been imagined by engineers on their own.
Read More »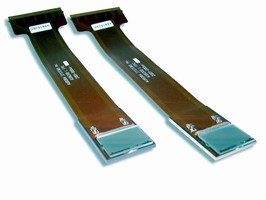 Series ASI 5200 features resolution of 1280 x 768 pixels and is powered by ASI5120 driver IC, while ASI 6200 series is powered by ASIC ASI6120 and has HD resolution of 1920 x 1080 pixels. Digital-drive technology enables efficient drive board design, resulting in compact package for HUD or head mounted display applications. High resolution and ability to use one panel color field sequential...
Read More »
SAN JOSE, Calif., and WESTLAKE VILLAGE, Calif., May 21 -- Aurora Systems, Inc. and HOLOEYE Systems, Inc. are pleased to announce the world debut of the ASI 5200 and the ASI 6200 series LCOS microdisplays to be shown at the HOLOEYE Systems booth during SID Display Week 2007 in Long Beach, California (May 20-25). Both new chip sets include digital MicroLCD's which have an active area diagonal of...
Read More »
February 22, 2007 Jerusalem, Israel- Minicom is proud to announce its partnership with NEC Display Solutions for the launch of the Multeos line of multifunctional LCD screens. Minicom is supporting the launch with their DS Vision 3000 player-to-screen distribution system ensuring that the Multeos screens have the very latest in player-to-screen distribution technology. Minicom's DS Vision 3000 is...
Read More »
Measuring 2Â-¾ in. thick, Compact-Power multimedia kiosk is equipped with 40 GB hard drive and 512 MB RAM. It includes stereo speakers, optional WiFi, and credit card reader. Intended for real estate, small business, and building lobby markets, unit is FCC and UL compliant, and can be mounted and locked to wall in minutes.
Read More »
Elmhurst, Illinois -- Adams Magnetic Products Co. offers a sample packet of its flexible magnets and magnet assemblies. These are among Adams' most requested products for retail applications including store fixtures, signage and point-of-purchase displays. The packet will be given to visitors to Adams' GlobalShop Booth #2746. Following the conference, the sample packets also may be requested by...
Read More »
Using tri-flow system for optimal image stability and uniformity, Heliodisplay M3 provides standard high-resolution (1,024 x 768 native display resolution) images for teleconferencing and boardroom displays. It can also serve as access point for gathering information in hotel and corporate lobbies. Also available, Heliodisplay M3i has all Heliodisplay M3 features and can serve as computer input...
Read More »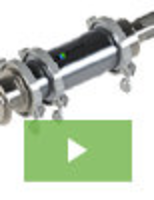 As a leader in industrial sampling equipment at Sentry Equipment, our success is built on a history of innovation and designs that epitomize value and efficiency. The new Hygienic Automatic Sampler is another example of our dedication to developing quality engineered products. To learn how this product can streamline the sampling process for dry, free-flowing materials, see our new video.
Read More »