Model STM32 MCU includes Adaptive Real-Time memory accelerator, optimized for ARM® Cortex(TM)-M3 processor, that supports zero-wait program execution of up to 120 MHz. Product utilizes embedded Flash technology to support greater peripheral integration, lower power consumption, and higher on-chip memory densities. In multimedia applications, unit supports implementation of audio codec,...
Read More »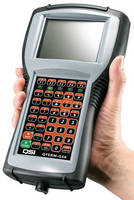 Salt Lake City, Utah . QSI Corporation, designer and manufacturer of rugged human machine interface and mobile data terminals, announce their wireless handheld QTERM®-G58 is selected by ATA Defense Industries, an industry leader in automated targeting systems for military and commercial use. ATA Defense uses the wireless QTERM-G58 to remotely control target systems for military training. The...
Read More »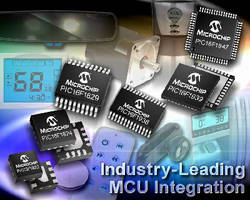 With max frequency of 32 MHz and 256 Bytes data EEPROM, Series PIC16F19XX provides peripheral functionality over full 1.8-5.5 V operating voltage, 32-level bandgap reference, and 3 rail-to-rail input comparators. On-chip LCD drive supports up to 184 segments and provides low-power drive mode for low power operation while updating display. MCUs also include up to 5 PWM channels with independent...
Read More »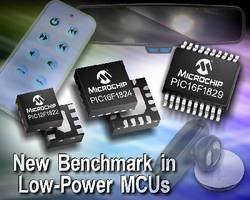 Featuring nanoWatt XLP technology for active current consumption of less than 50 Â-µA/MHz, PIC1XF182X Series includes dual I2C(TM)/SPI interfaces, up to 4 PWM channels with independent time bases, and up to 12 channels mTouch capacitive touch sensing. Data Signal Modulator enables designers to combine many functions into single MCU. Available in DFN, PDIP, QFN, SOIC, and TSSOP packages with...
Read More »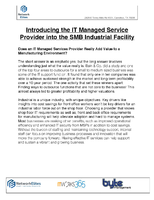 To find out more about how IT managed service providers can specifically help your manufacturing company, download now.
Read More »
Along with 17 timers, 3 ADCs, 13 communication interfaces, STM32 XL-density devices feature up to 96 KB volatile memory (RAM) as well as 1 MB on-chip Flash memory organized in 2 banks of 512 kB. Series uses ARM® Cortex(TM)-M3, 32-bit processor core with Memory Protection Unit (MPU) that allows new applications to protect specific code or data during execution. USB and CAN connectivity...
Read More »
Model NI cRIO-9023 controller has 533 MHz PowerPC processor, while NI cRIO-9025 has 800 MHz processor as well as dual Ethernet ports for network programming, communication, and expansion I/O. Both products work with CompactRIO reconfigurable chassis, which include FPGAs that are programmed using NI LabVIEW 2009 graphical system design platform. Controllers are available with conformal coating for...
Read More »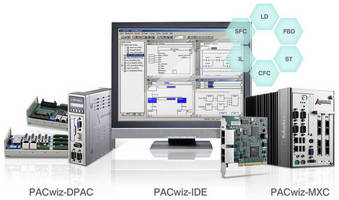 PACwiz series of programmable automation controllers supports distributed motion control of up to 256 axes and distributed I/O of up to 2,016 points, which are time-deterministic. This allows configuration of entire motion profile and I/O topology based on application requirements while also providing flexible wiring configurations. Full compatibility with IEC 61131-3 syntaxes includes 5 PLC...
Read More »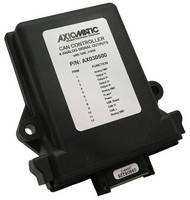 Read analog sensors with the 1 Universal Signal Input - CAN control. Axiomatic announces the release of a new SAE J1939 or CANopen® I/O control with 4 analog signal outputs, part number AX030500 and AX030501 respectively. These controllers are part of a growing line of low cost and compact rugged distributed I/O controls packaged for harsh operating environments. Other new models include a...
Read More »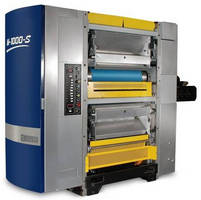 Using Siemens servo controls package and mechatronics service, retrofitter transforms printing press for Ovid Bell Located in Effingham, Ill., B&L Machine & Design specializes in the remanufacturing of various printing presses and ancillary equipment. Its particular expertise is on the Harris M-1000 and M-110 series presses, as well as splicers, infeeds, chillers and folders. By redesigning all...
Read More »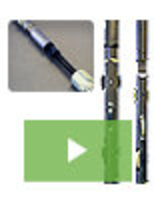 For over 35 years our Wheeled Rod Guide Couplings, have been at work in oil fields across the globe. Our products are engineered to extend the service life of sucker rods and tubing, delivering cutting-edge innovation that enhances oilfield operation, maximizes output, and enhancing overall operations. To learn about the advantages of using Wheeled Rod Guide Couplings in your wells, see our video.
Read More »