Including API for expandability, FSE(TM) (Face Sensing Engine(TM)) v4 for embedded systems can detect faces and identify specific human beings from surveillance videos. FSE Ver.4 can detect and capture faces from broad range of angles to enable face detection from cameras that are mounted at ceiling level. This reduces network load as system can select only relevant videos or images to be...
Read More »
Designed for communications Service Providers (SPs), Oracle® Communications Service Delivery portfolio is comprised of software applications used for enabling next-generation IP-service delivery. Suite includes components of BEA WebLogic Communications middleware platform and Oracle Fusion Middleware. It can also be used with Oracle applications for billing and revenue management, CRM, and...
Read More »
Offering modular library of software algorithms usable individually or in combination, QNX Aviage® acoustic processing kit v1.2 uses these algorithms to extract human voice from noisy car interiors to improve clarity. Capabilities include: automatic gain control to maximize dynamic range of incoming audio; parametric equalizer for precise control over in-car sound quality; and dynamic level...
Read More »
For .NET applications, RTI provides off-the-shelf, standards-compliant alternative to development of custom messaging middleware. This reduces risk and required time for developing, supporting, and maintaining proprietary solution. Using RTI middleware and standard Gigabit Ethernet networks, distributed .NET applications can achieve inter-application messaging latency of less than 100...
Read More »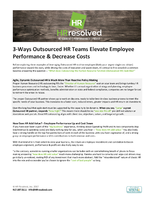 Is outsourcing your HR department the right call for your company? This white paper explores various factors for you to consider.
Read More »
Developed for home gateways, NetFront(TM) IP Connect incorporates technologies used in ZebOS® middleware, Layer 2 and Layer 3 carrier-class routing, and switching software from IP Infusion. It enables timely development of commercial products for packet-based NGN home gateways and provides carriers and equipment manufacturers with visually intuitive XML-based user interface. It also offers...
Read More »
EdgeFrontier v4.0 is intended for building and managing intelligent enterprise networks, systems, and applications featuring data from edge assets including sensors, actuators, wireless sensor networks, RFID systems, imagery devices, and other edge systems and devices. Middleware can be installed on servers, routers, and other network appliances, and allows enterprises to connect with and control...
Read More »
Enea Element v3.0 offers standards-based middleware platform for building high-performance applications that integrate hardware and system software components into cohesive communications platform. It provides core services for instrumenting, monitoring, and synchronizing applications spread across multiple operating systems and processors. It also offers network supervision, fault management,...
Read More »
NUREMBERG, Germany, Feb. 26 -- QNX Software Systems is mapping a new course in the area of 3D navigation, thanks to a new alliance with software company Nav N Go. System designers seeking smooth, lightning-fast image rendering of streets, 3D cityscapes, or even a bird's eye view of roadways can now harness the software innovations of QNX and Nav N Go for the ultimate high-definition imaging...
Read More »
Companies Offering Operational Support System (OSS) and Business Support System Solutions (BSS) for Communications Service Providers MOBILE WORLD CONGRESS, BARCELONA, Spain, Feb. 12 / -- Oracle and Accenture (NYSE:ACN) have integrated Oracle Fusion Middleware into Accenture Communications Solutions, Accenture's suite of business offerings and assets designed to mitigate the risk of deploying, and...
Read More »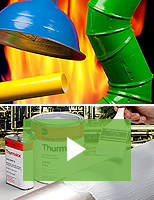 Dampney's high performance coating systems provide protection against extreme weather, chemicals, and corrosive environments for atmospheric, immersion, and underground applications. Check out the video to learn more.
Read More »