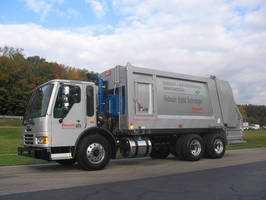 (Rochester Hills, MI - www.boschrexroth-us.com) Bosch Rexroth, one of the world's leading specialists in drive and control technologies, received an MI Earth Day Award during the MI Earth Day Fest, an annual three-day event held April 22-24 in Rochester, Michigan. The event is Michigan's largest Earth Day gathering, with nearly 100,000 attendees anticipated. The award was created to recognize a...
Read More »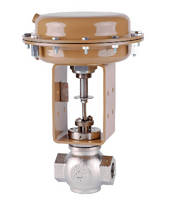 Ellsworth, Kansas, USA - Designed for a new level of conformity, the new C27 actuator release from Cashco, Inc. promises to be a win/win product for both the manufacturer and its customers. Basically, the C27 actuator is the first of a new line of actuators that Cashco is in the process of introducing, which can be coupled to any one of several body assemblies or valve body models," says Cole...
Read More »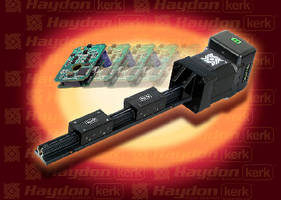 Supplied as integrated system, Model RGS04 features wear-compensating, anti-backlash driven dual carriages for repeatable positioning. All moving surfaces include Kerkite® engineered polymers running on Kerkote® TFE coating. Assembly's IDEA(TM) system combines hybrid linear actuator technology with fully programmable, integrated stepper motor drive, which includes GUI for programming...
Read More »

Measuring 2.14 in. dia x 7.75 in. long with keyed output shaft of 12 mm dia x 25 mm long, Model MMP-TM55-60-12V GP52-308 accepts any 12 Vdc source, including battery power. Mounting is accomplished with 4 face mount M5 threaded holes, equally spaced on 40 mm dia B.C. Requiring 1.2 A at 12 Vdc to generate full load torque, reversible gearmotor features IP54 protection level for operation in harsh...
Read More »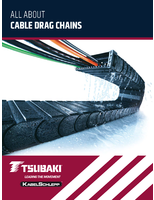 This ebook provides an in-depth overview into cable drag chains.
Read More »
Miniature piezoelectric motor and drive system will deliver high torque and speed without magnetic interference, enabling further miniaturization of precision guided munitions Victor, NY - April 23, 2010 - New Scale Technologies, Inc. (www.newscaletech.com) has been awarded a Phase I Small Business Innovation Research (SBIR) contract from the U.S. Navy to develop a non-inductive rotary actuator...
Read More »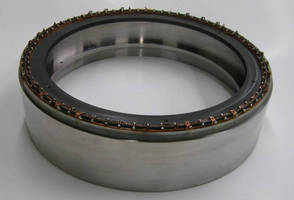 Delivering power to weight ratio of 6.4 hp/lb, compact TG14090 allows ducted-fan to generate 600 lb of thrust, depending on fan blade design. Low profile unit provides quiet operation and low power consumption. Utilizing cantilever fan blade design, hub can be designed for either open- or closed-operation. Motor configuration weighing 25.6 lb can produce shaft output of 163 hp.
Read More »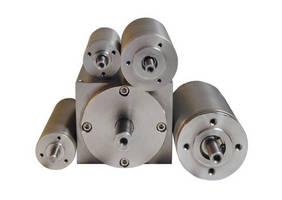 Available in diameters from 0.375-1.1 in., compact Pittman® motors can develop speeds up to 70,000 rpm under varying loads and continuous torque ratings up to 15 oz-in., depending on model. All models feature high-energy neodymium magnets and incorporate patented Parallex winding geometry, which delivers high efficiency using less energy. Standard features include 2- or 4-pole rotor,...
Read More »
Miniature actuator incorporates precision ball screw, Faulhaber DC motor with graphite commutation, and gearless coupling for high-speed, backlash-free positioning and high performance in drive motion controller. Available in travels from 10-300 mm, actuator offers resolution of 1 micron with integrated rotary encoder, speeds up to 120 mm/s, and axial loads up to 800 N. No external bearing and...
Read More »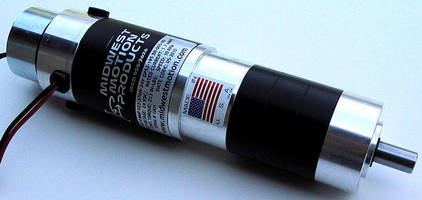 Accepting any 24 Vdc source, Model No. MMP-D22-376H-24V GP52-195 BR-005-IP54 measures 2.25 in. dia x 9.0 in. long and has 12 mm dia x 25 mm long keyed output shaft. Continuous and peak torque ratings are 214 and 443 lb-in., respectively, and totally enclosed integral failsafe brake is capable of 5 lb-in holding torque. Weighing 5 lb, IP54-rated unit requires 1.75 A @ 24 Vdc to generate full load...
Read More »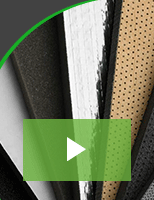 Technicon's products solve the most complex noise pollution and thermal problems and improve product marketability. Check out the video to learn more.
Read More »