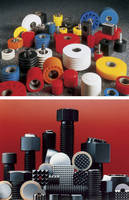 Fixtureworks® (Fraser, MI), a leading manufacturer and supplier of material handling and machine tool components, workholding technologies and fixturing accessories will showcase its extensive clamping, gripping, locating, positioning, roller, bumper and support products at Booth 3473 during the Pacific Design & Manufacturing Show 2011, February 14-16, 2012, Anaheim, California. The display...
Read More »
Sparks, NV - Sierra Nevada Corporation's (SNC) Space Systems business area headquartered in Louisville, Colorado, is once again playing a critical role in a NASA mission to Mars. NASA's Mars Science Laboratory (MSL), launched November 26th, built by the Jet Propulsion Laboratory in Pasadena, California, will rely on the SNC built Descent Brake to gently lower the 2,000 pound rover to the planet's...
Read More »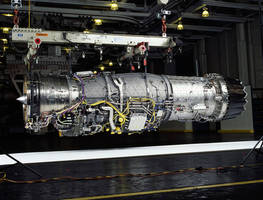 EBTEC Achieves Significant Cost Saving in Joint Strike Fighter (F-35) Engine Program (Agawam, Ma) EBTEC Corporation has recently completed a cost reduction challenge with Pratt and Whitney Aircraft Engineering to create significant savings for synch-ring segments for the Joint Strike Fighter (JSF) engine program (PW-F135). Through process design conception and the welding expertise at EBTEC...
Read More »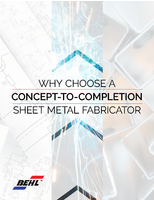 Concept-to-Completion provides you with the services and guidance you need to get your metal fabrication project done better, faster, and more cost effectively, all in one place.
Read More »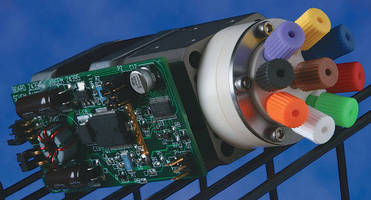 As integrated assembly, Cheminert® C65 Series Liquid Handling Stream Selector uses Cheminert LC valve design and 24 V microelectric actuator. Assembly only needs to be connected to instrument's power supply, and optional serial interface board permits RS232 communications for position input control as well as confirmation of valve position. Solution comes in 4, 6, 8, and 10 position...
Read More »
Company Announces Distributed Power Generation Pilot Project with Eastern Wind Power for a 50kW Vertical Wind Turbine ATLANTA - Siemens Industry Inc.'s Drive Technologies Division has launched a pilot program partnership with Boston-based Eastern Wind Power to test several new solutions for decentralized power generation in the small-mid range. Siemens will provide drive train solutions for...
Read More »
LAS VEGAS - Pratt & Whitney Power Systems today announced the development of its latest aeroderivative industrial gas turbine, the FT4000 SWIFTPAC®, at the POWER-GEN International tradeshow. This next generation gas turbine is based on one of the aviation industry's most widely utilized aircraft engines, the flight-proven PW4000 class turbofan engine, which has 26 million hours on more than...
Read More »
LAS VEGAS - Pratt & Whitney Power Systems (PWPS) announced today at the POWER-GEN International tradeshow a contract with Compagnie de l'Engineering de l'Electricite et du Gaz (CEEG), a subsidiary of Sonelgaz, to supply eighteen FT8® MOBILEPAC® self-contained gas turbine-powered electric generating units for a number of locations in Algeria. Sonelgaz is a state-owned entity that is...
Read More »
DUBAI, United Arab Emirates,Nov. 14, 2011 - DUBAI AIR SHOW - Pratt & Whitney has successfully completed more than 1,000 hours of full engine testing on its PurePower engines for its first two applications - the PW1500G engine series for the Bombardier* CSeries* aircraft and the PW1200G engine series for the Mitsubishi Regional Jet. Four PW1500G engines and two PW1200G engines have undergone...
Read More »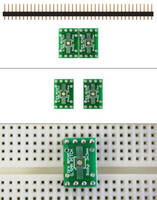 Now DFN Components Can Be Used on a Breadboard San Ramon, CA - SchmartBoard, a company that makes prototyping electronic circuits easier, has expanded its product offering with a new family of products that support the use of Surface Mount Technology (SMT) components with breadboards. Schmartboard has released two new SMT to DIP adapters that use the patented ez" technology, which makes soldering...
Read More »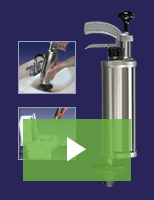 The Kinetic Water Ram by General Pipe Cleaners clears out clogged pipes quickly using kinetic energy. The Ram is so simple to operate, anyone can use it. Check out the video to learn more.
Read More »