Model NA 250 Immersion Separator collects explosive or glowing media particles entering vacuum and immediately mixes them in turbulent liquid bath. Particles may contain ignition source such as aluminum, magnesium, zirconium, or titanium. Moving air and liquid are then forced onto materials, submerging and neutralizing them. Featuring heavy duty stainless steel construction, unit has access door...
Read More »
GE's ABMet Biological Wastewater Treatment System to Help AEP Coal-Fired Power Plant Remove Selenium from Wastewater TREVOSE, Pa. - GE (NYSE: GE) today announced that American Electric Power (AEP) is installing GE's ABMET® wastewater bioreactor system at the utility's Mountaineer coal-fueled power plant in New Haven, W.Va. GE's proprietary biological treatment system uses a special...
Read More »
Texas Instruments perpetuates innovation with leading analog, wireless and embedded processing solutions at ESC 2011 WHAT: New ultra-low-power, video decode and display and ARM® solutions are just a few of the cutting-edge technologies that Texas Instruments Incorporated (TI) will showcase at booth #1530 during the Embedded Systems Conference (ESC), Silicon Valley in San Jose, Calif. TI...
Read More »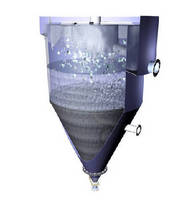 Erie, PA - The newly formed Eriez® Flotation Group reports that its potash and phosphate flotation systems continue to be in significant demand, continuing a trend that began in 2009 when the group's sales exceeded $20 million. Eriez attributes the demand to the ability of its dynamically sparged column flotation cells and air-assisted teeter-bed separation technologies to increase the...
Read More »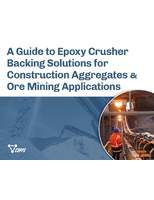 This white paper provides a guide to epoxy crusher backing solutions for construction aggregates and ore mining applications.
Read More »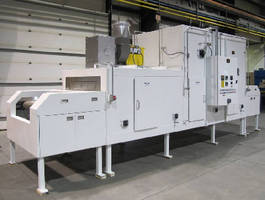 The Lanly Company supplies a complete line of Snack Food Dryers. The Model 2500 featured includes a 50 wide balanced mesh weave type 304 stainless steel conveyor belt. The dryer utilizes a natural gas burner with proven top down high volume air supply and exhaust fan for moisture removal. A set of removable filters for the recirculating air maximizes clean air flow and provides ease of...
Read More »
Flexible solutions meet versatile applications At this year's FCE Pharma in SÃ-£o Paulo/Brazil, the Romaco Group will show highlights from its Packaging and Processing sectors. Karlsruhe/Germany, 13.04.2011. The compact Noack DPN 760 blister packaging machine unites high system availability with excellent value for money. MZ toothed colloid mills from FrymaKoruma offer efficient processes for...
Read More »
OK International will be showcasing a wide range of advanced technologies for production assembly at this year's SMT Germany exhibition, being held from May 3rd - 5th in Nuremberg, Germany. Represented on Weidinger stand 101 in Hall 6, OK International products on show will include advanced soldering, desoldering and rework systems - to name a few! Taking centre stage on the Weidinger stand, OK...
Read More »
FLINT, Mich. - With rising diesel prices smashing farmer, municipality and trucker budgets, OnSite Energy of Flint, Michigan announces its second generation series of automated 40-400 gallon biodiesel processors as a solution. These processors are reliable, automated, and available now to people wishing to save money by making their own fuel," said Dr. Michael Witt, CEO of OnSite Energy. "The...
Read More »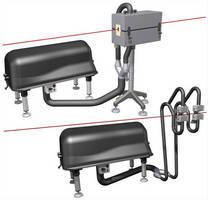 Powered by ACI variable-speed, multi-stage blower, LINE-Dry System removes residual moisture film from water-cooled extruded products up to 25 mm dia at speeds of 500 m/min. Enclosed version has one pair of facing air delivery plenums that can be adjusted to suit different product dimensions and are sprung to allow flexing to accommodate product distortions/kinks. Open version consists of 2 pairs...
Read More »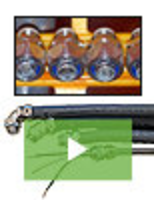 Anamet Electrical's 316 Stainless steel SEALTITE® fittings and UL-listed cord grips protect sensitive wiring components from fluids, corrosive contaminations, bumps, and abrasions with a steel core and liquid tight conduit jacket. Check out this video to learn more.
Read More »