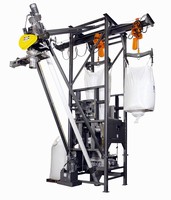 NBE's Bag Unloader provides a way for hardened material to be broken up and easily discharged with the addition of deblocking rams and massage paddles. NBE's Bulk Bag Unloader provides a way for Non-free flowing material to be deblocked with the addition of deblocking rams. The deblocking rams along with NBE's massage paddles condition the hardened material lump size so the material can easily...
Read More »
Bosch Rexroth Bridge Module Company to feature automation technology and applications that improve productivity, reliability, throughput and cost for semiconductor manufacturing and photovoltaic production, July 15-17 at Semicon West, booths S-841 and S-941. (San Francisco, CA - www.boschrexroth-us.com/SEMICON) Bosch Rexroth, the Drive and Control Company, will exhibit a broad range of automation...
Read More »
Supporting BGA and CSP memory device packages, Model M6242 offers parallel test capacity up to 512 devices and provides throughput of 42,200 units/hr. Test handler includes large display with detailed menu, and complex arm mechanisms that sort good and bad devices after testing. Accuracy is ±1.5°C when set at -10 to 100°C.
Read More »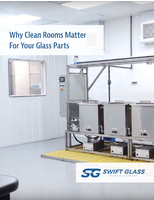 Clean rooms reduce the risk of contamination from a variety of contaminants that can compromise a critical manufacturing process or fabricated part.
Read More »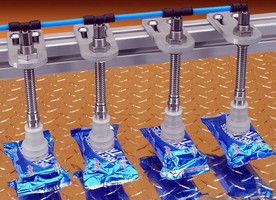 Light-Touch Vacuum System Components feature soft, food-grade, bellows-style silicone cups and adjustable suspensions for gently picking up foil-wrapped food and pharmaceutical products and placing them into boxes. Designed for high-speed packaging systems, components lift loads without damaging them or leaving trace from handling. Products can include adjustable or spring-loaded suspensions,...
Read More »
MILWAUKEE, WISCONSIN, MAY 19, 2008 - HK Systems, Inc., North America's leading automated material handling and supply chain software total solutions provider, has been selected to provide a new, state-of-the- art, Automated Storage & Retrieval System (ASRS) for H.E. Butt Grocery Co. in San Antonio, Texas. The unique system is designed to automatically store pallets of frozen goods and retrieve...
Read More »
Erlangen, Germany April 30, 2008 Taiwan Air Cargo Terminal Ltd (TACT), a consortium operating company of China Air, is expanding its cargo capacities in Taipei and Kaohsiung, Taiwan. Siemens Mobility is equipping the existing cargo center at Taipei Airport with a modern material handling system, and constructing a new handling system for the air cargo terminal at Kaohsiung Airport. The overall...
Read More »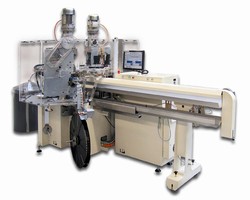 CrimpCenter 64 HD for high quality processing of crimp and seal cable applications features various configuration possibilities that allow for variety of medium to large wire applications between 10 and 6 AWG. With special options, machine can also process small to medium wire applications between 22 and 10 AWG. Incorporating precision mechanics, electronics, software, and networking, it performs...
Read More »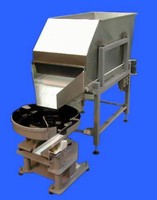 Storeveyor system features steel fabricated base frame with belt conveyor system mounted to top horizontal surface. SS bulk hopper, mounted above conveyor, can be primed with product from above or from rear and inverter drive enables speed and discharge rate of system to be set as required.
Read More »
JDV ReelCaddy models RC01S and RC01L transport buried or aerial service wire from service vehicle to work-location. They handle and dispense any type of cable reel with I.D. holes of 1Â-¼ in. or larger, up to 23 in. dia, up to 30 in. high, and not exceeding 300 lb. Box beam design is constructed out of 11 ga steel and models include removable T-handle, 8 in. premium-sealed bearing wheels,...
Read More »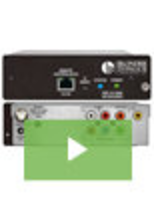 Blonder Tongue Laboratories provides ISO 9001:2015 certified electronic contract manufacturing services at our on-site lab. We specialize in video distribution, fiber optics, and communications but have a variety of services available to bring your products to market. See our video to learn more.
Read More »