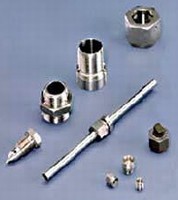 Fittings and connectors, including Dynatube, Parker, and Statoflex Tube Fittings, are used in aerospace and aircraft applications. They can be made to engineering specs or from blueprint drawings, with tolerance held to ±.0001 in. and surface finishes down to 5 RMS. Specialties include machining Titanium and 17-4PH, and secondary capabilities include safety wire hole drilling. All products...
Read More »
Mytrunnion-1 5-Axis Machining Center Machines, Grinds and Turns With Ultra Precision and High Speed LOS ANGELES, CA WESTEC BOOTH #3316 (March 27, 2008) - Kitamura Machinery, the premier manufacturer of horizontal, vertical and 5-axis machining centers, will showcase the high-precision capabilities of its 5-Axis and Horizontal Machining Centers at WESTEC 2008, Los Angeles Convention Center March...
Read More »
More Sizes and More Shapes of Torlon® PAI Machining Stock Now Available from Quadrant (Reading, PA, March 11, 2008) - Engineers and designers will have more options for new or upgraded part designs with Quadrant's expanded range of Torlon® PAI shapes. Torlon is an ideal material for applications where extreme strength, stiffness, stability and wear-resistance are required. It is far...
Read More »
EASTEC 2008, Booth #5507 (Franklin Lakes, NJ - March 2008) Mitsui Seiki is exhibiting its latest precise 5-axis vertical CNC machining center at EASTEC 2008, May 20 - 22 in Springfield, MA. The Vertex 550-5X" this machine has a casting design which provides an ultra rigid machine structure. Another key feature is a unique gear drive system for the A and C rotary axes, which provides high speed...
Read More »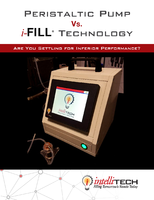 Intellitech's advanced i-FILL® pumps are used by companies working in some of the world's most demanding sectors, delivering innovative, highly accurate and repeatable results, ensuring ultimate reliability and ease of use for all of our clients.
Read More »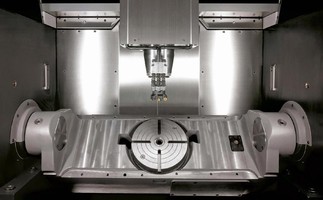 Model B 300 5-axis vertical machining center features 5 m/sÂ-² acceleration in linear axes, 6 sec chip-to-chip tool change from 30-station magazine, and 15,000 rpm/19 kW spindle to assist when machining deep cavities. Linear axis travels are 800, 600, 500 mm for X, Y, and Z axis, respectively, rapid motion in linear axes is 30 m/min, and 2 rotary axis movements are 360° for various...
Read More »
(February 27, 2008) Rochester, NY - G-S PLASTIC OPTICS once again expands its precision manufacturing capabilities with the latest diamond turning technology. The company announces the recent integration of a Precitech Nanoform® 200 machine. This two-axis aspheric contouring machine with real-time operating system will be used for single point diamond turning. The work center is also...
Read More »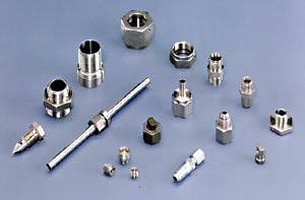 Thuro Metal Products is a manufacturer of precision screw machined components; swiss and CNC swiss machining of metal components. Since 1971 Thuro has provided screw machining for many industries to include aerospace, avionics, optical, medical and energy. Single spindle and multi spindle CNC turned parts in all basic free machining materials plus alloy steels and exotic materials. Our quality...
Read More »
New machines to follow six five-spindle MAG Cincinnati profilers already in build for Ural Boeing Manufacturing Hebron, KY, January, 2008 - VSMPO-Avisma, the world's largest titanium producer, has ordered four three-spindle MAG Cincinnati Ti (titanium) profilers for its plant in Verkhnaya Salda, Russia. The three-spindle machines will produce a variety of parts, including large landing gear...
Read More »
January 17, 2007 Wood Dale, IL - Mitsubishi announces its extensive lineup of complementary technologies to be showcased at Westec booth #3532. Mitsubishi will highlight the latest EDM, hole popper, waterjet, and high-speed vertical machining equipment. The new FA10 Advance wire EDM features a new M700 Series Mitsubishi control. The Windows-based system with 15-inch LCD touch screen display...
Read More »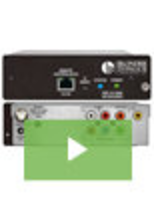 Blonder Tongue Laboratories provides ISO 9001:2015 certified electronic contract manufacturing services at our on-site lab. We specialize in video distribution, fiber optics, and communications but have a variety of services available to bring your products to market. See our video to learn more.
Read More »