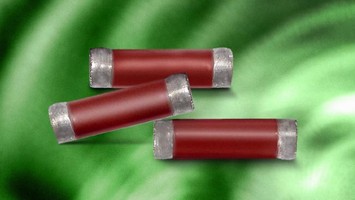 Unspiraled resistor exhibits superior surge protection, provides compact alternative to larger through-hole components... BOONE, NC (December 21, 2006) - Providing telecommunications design engineers with a surface mount device that is less susceptible to surges, TT electronics IRC Wire and Film Technologies Division has certified their HSF Series resistor to meet or exceed GR1089 lightning...
Read More »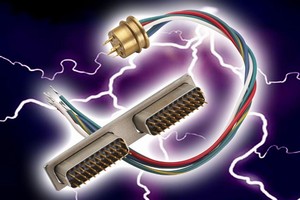 Fairview, PA - October 30, 2006 - Spectrum Control now offers models of their bolt-in style and custom EMI filter plates that meet the specifications of RTCA/DO-160 Section 22 Lightning Requirements. In order to achieve this added protection, Spectrum adds a specially formulated potting compound into metal dams created around the filter pins. This potting insulates and protects the capacitive...
Read More »
BOULDER, Colo., July 21 -- Lightning Eliminators and Consultants, Inc. (LEC, Inc. -- Boulder, CO, USA) announced the increased worldwide availability of its patented Retractable Grounding Assembly (RGA) for floating roof tanks. While shunt systems offer historically unreliable protection, the RGA solves the challenge of providing a consistent positive grounding connection between the tank roof...
Read More »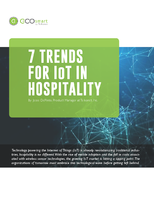 Check out this white paper to see how the IoT can be used in your hotel to reduce energy consumption, increase guest satisfaction, improve maintenance, and more.
Read More »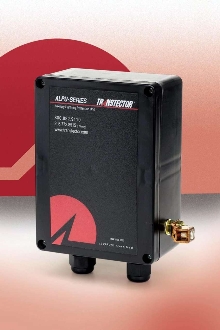 Available in 12 configurations, Series ALPU protectors use fast-acting silicon avalanche suppression diodes and reduced capacitance protection circuitry that permits high signal bandwidth. Units deliver protection to IEC 61000-4-5 standards, and can protect up to 8 Cat-5e pairs as well as various configurations of dc power for POE applications. Measuring 5.5 x 4 x 3 in., metal or plastic...
Read More »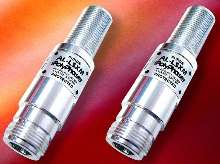 Series AL-LSXM offers surge protection with multi-strike capability for broadband wireless, Wi-Fi, and WLAN communication systems. Available with N or TNC connectors, protectors feature weatherized housing and are dc blocked. Devices, designed for 2.0-6.0 GHz frequency range, feature insertion loss under 0.2 dB, return loss above 20 dB, and RF power of 10 W. Surge throughput energy is no more...
Read More »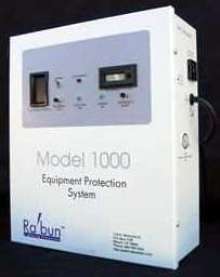 Defender-Series M-1000 proactively detects lightning up to 1 mile away and automatically takes action to protect itself and critical electrical and electronic systems. It uses various switching units that isolate computers, PLCs, telephone systems and lines, data lines, CCTV video feeds, and CCTV equipment as well as mission critical electronic equipment.
Read More »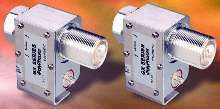 Providing protection from lightning and static discharge where dc voltage is required, GX Series Bias-T Protectors have weatherized housing and are available with N, 7/16 DINTNC, and SMA standard connectors. Series covers 400-1,200 MHz (CGX protector) and 800-2,500 MHz (DGX protector) frequency ranges and has surge capabilities of 8/20 -µs @ 20 kA and 10/350 µs @ 10 kA. Return loss is above...
Read More »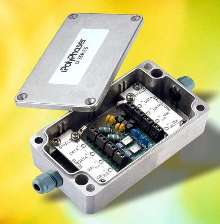 Configurable IX Protection Platform provides surge and lightning protection for data and Power Over Ethernet applications. Model IX-H suits applications up to 100 Mbps, such as Cat 5, UTP, and STP while Model IX-L supports applications up to 25 Mbps including T1/E1, RS422, and RS485. Model IX-M is targeted at RS232 platforms, and Model IX-DC24/48 fits 24 or 48 Vdc voltage power supplies. All are...
Read More »
Employing Sure/Fire Four-Port Building Block as basic element in surge protection design, additional blocks or hubs may be stacked vertically and horizontally for virtually unlimited number of surge protected devices. Faceplates may be color coded to define type of phone line, data interface, LAN, or I/O signal connection attached. Sure/Fire comes with RJ45, terminal block, DB9, DB25, and various...
Read More »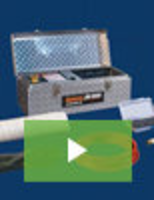 The lightweight, compact JM-1000 Mini-Jet clears grease, sand, and ice with a high pressure water jet.
Read More »