With gearless spindle technology and RS-Slide structure, VTP-1000 performs hard turning with precision that eliminates need for grinding. Contour and profile cutting accuracies are within -
Read More »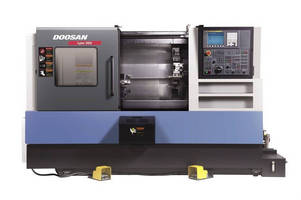 Lynx 300 features 10 in. dia, 3-jaw power chuck that turns 3 in. bar stock at speeds up to 3,500 rpm. Unit's bed is 1-piece Meehanite casting that absorbs vibration and dissipates heat. Linear motion guideways allow traverses of 945 ipm on X-axis and 1,181 ipm on Z-axis, and 12-station turret has 8.26 in. dia curvic coupling and 11,465 lb of hydraulic clamp force. Indexing repeatability is -
Read More »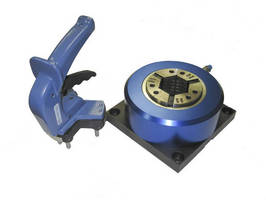 IMTS booth 8348. Hardinge FlexC(TM) Collet Systems are flexible, sealed collet heads that interchange in seconds. It is available for a variety of spindle mounts for all brands of CNC lathes. The FlexC line is manufactured in Elmira, New York. New this year is the FlexC 42mm size, which fits several spindle mounts. Also new are the FlexC Expanding Collet System and the FlexC Collet Block, both of...
Read More »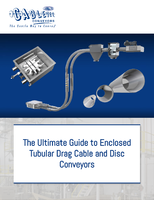 This whitepaper provides a comprehensive overview of enclosed tubular drag cable and disc conveyors.
Read More »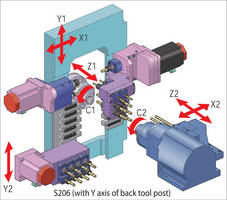 [Windsor, CT] Tsugami will debut three new Swiss-style machine tools at IMTS 2010, according to a spokesperson from Rem Sales, the exclusive North American importer of the line of precision machine tools. IMTS will be held September 13 through 18 at McCormick Place in Chicago, with Tsugami/Rem Sales located in Booth S9410 of the South Building. The new product line-up from Tsugami will include...
Read More »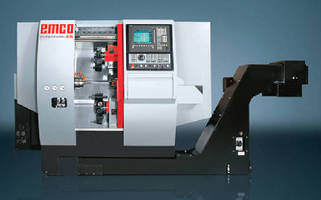 In addition to 2 spindles, 2 turret tool systems with total of 24 driven tools, and VDI25 rapid change system, Hyperturn 45 includes Y axis with 70 mm travel in upper slide system and Z2 axis in lower slide system. Main and counter spindles are equipped with integrated water-cooled spindle motors with drive power of 15 kW, max speed of 7,000 rpm, and 100 Nm torque. Maximum turning diameter is 300...
Read More »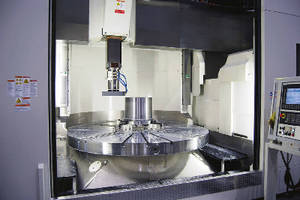 Adding surface finishing to processing capabilities of vertical turning centers, automatically changed Grinding Attachment allows finishing of ID, OD, and plane surfaces on parts up to 185 in. diameter. VTCs equipped with 22/33 kW grinding attachment can produce better than 10 -µin. finishes and roundness of less than 60 -µin. with diameter size control of 0.001 in. Utilizing wheel sizes up to...
Read More »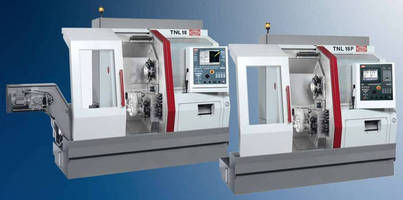 Accommodating simultaneous use of up to 3 tools on 2 spindles, TRAUB TNL18 can be changed over in minutes to produce precision parts with or without guide bush for long/short parts from bar up to 20 mm dia. It delivers precision and qualified surface finish in one operation, and tool capacity can be increased to 54 places via dual- and multi-holders. Also available, TNL18P production machine...
Read More »
Hoffman Estates, IL - BIG Kaiser Precision Tooling Inc. announces the expansion of its turning tool line to include HSK-T63 for Mill-Turn Centers. As popularity of these machines has increased over the years, so too have their tooling options. With this development, BIG Kaiser's extensive modular turning cartridge system now includes holders to support any MTC spindle interface. The HSK-T...
Read More »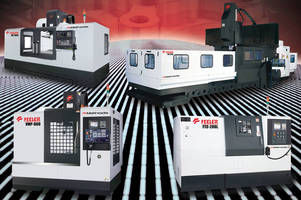 Announcement coincides with Introduction of All-New Line of High Performance Machine Tools. Sudbury, MA, U.S.A. - Methods Machine Tools, Inc., a leading supplier of innovative precision machine tools, has announced effective today, that they are the exclusive importer of Fair Friend Group's (FFG) FEELER line of machine tools throughout North America. FFG (Taipei, Taiwan) is one of the largest...
Read More »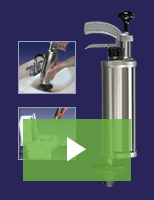 The Kinetic Water Ram by General Pipe Cleaners clears out clogged pipes quickly using kinetic energy. The Ram is so simple to operate, anyone can use it. Check out the video to learn more.
Read More »