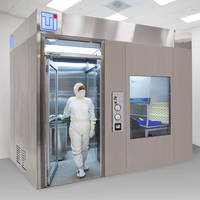 Fullerton, CA - Stainless steel cleanrooms from Terra Universal meet USP 797 and USP 800 pharmacy compounding requirements. These secondary engineering controls (SEC) maintain pressure and cleanliness ratings. Rooms have ante- and buffer chambers with pressure differentials that control circulating particles and meet current Good Manufacturing Practices mandated by the FDA. Both USP 797 and USP...
Read More »
CHANTILLY, Va. - OGSystems (OGS), a leader in technology innovation for the Department of Defense (DoD) and Intelligence Community (IC), today announced that they will partner with Planet in the development of BlueGlass™ – OGSystems' easily accessible location-based intelligence platform. OGSystems' vision for BlueGlass™ was born out of our internal research and development labs,"...
Read More »
FDA-cleared and CE-compliant, Diazyme Smart 700/340 Analyzer measures multiple parameters, including diabetes, renal function, inflammatory markers, and cardiac markers. Instrument incorporates barcode reader, touchscreen, and RFID card. In addition to providing automated integrity check with each test, analyzer identifies lot expiration date, indicates number of tests remaining, and permits...
Read More »
This paper explains advantages of large center aperture Planar ServoRing rotary tables over small animal SPECT (single photon emission computed tomography) scanners in small animal Positron Emission Tomography (PET) studies in academia, pharmaceutical companies and contract research organizations. Highlighting a couple of commercial hybrid scanners' limitations, the paper details how the latest generation scanner architecture uses IntelLiDrives large aperture rotary tables to independently rotate gamma cameras and detached pinholes collimators. Also listed are few features of large center aperture rotary table: large trans-axial field of view and sub-millimeter imaging resolution. It states that low profile rotary servo tables Planar ServoRing models PSR300 and PSR300MHS with respective center apertures 115 mm and 145 mm are used in the latest generation scanners.
Read More »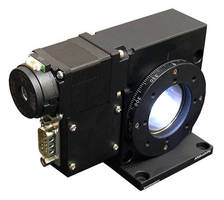 Offering 360° rotation, 4.587 x 3.150 in. AR59-AV- employs 180:1 precision worm drive and deep grove ball bearings to provide ±0.001° resolution when microstepping. Table parallelism is
Read More »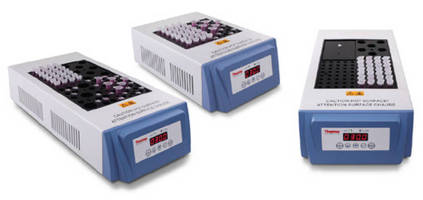 Fullerton, CA – Temperature control and heat uniformity are features of Thermo Fisher's Digital Dry Baths/Block Heaters available at Laboratory-Equipment.com.-  These small-footprint units are portable and commonly found in labs performing a wide range of applications. Place microplates and tubes of all sizes on these one-, two- and four-block platforms. Use the font-panel buttons to make...
Read More »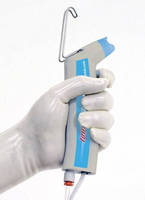 Fullerton, CA – Control static electricity, and the particles it attracts, with Terra Universal's hand-held Ionizing Blow-Off Gun. The gun delivers targeted, safe bursts of positive and negative ions, along with clean dry air or nitrogen, to surfaces. Total weight is only one pound. The PVC gun is connected to a source of dry air or nitrogen that help propel the ions and prevent moisture...
Read More »
CORALVILLE, Iowa - CIVCO Radiotherapy will exhibit their patient-centric positioning and motion management solutions in booth #10001 to attendees of the 58th Annual American Society for Radiation Oncology (ASTRO) Meeting in Boston, September 25 – 28, 2016. The company's team of motion management experts will be in-booth to demonstrate solutions and focus on how to improve patient outcomes,...
Read More »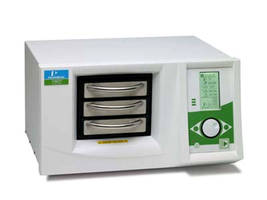 Fullerton, CA – Incubate, shake, or do both simultaneously with the TriNEST Microplate Incubator/Shaker from PerkinElmer.-  This small-footprint instrument is made of Teflon and acid-proof steel for durability and corrosion resistance.  Program up to 20 operations using the keypad and LCD graphical display; specify temperature, speed and time (constant or interval shaking). TriNEST operates...
Read More »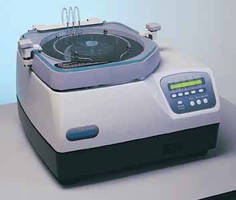 Fullerton, CA – Evaporate samples for lab analysis using the efficient RapidVap N2 Dry Evaporation System manufactured by Labconco. The evaporator uses a gentle combination of heat, vortex motion and process gas, typically nitrogen, to quickly dry samples. Nitrogen is a common drying agent, and the stream of gas above the sample speeds-up evaporation. RapidVap features a unique cooling block...
Read More »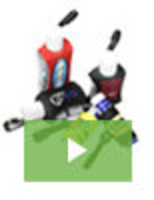 Neagle Choice has long been known as a quality source for commercial sewing, printing, die cutting, and the manufacturing of a wide range of custom products. Enhancing our service capabilities has been the key to our success, and has driven our growth into many new and exciting markets. Continuing on this trajectory, we now offer precision laser cutting and etching, adding to our long line of manufacturing services. See our video to learn all about it.
Read More »