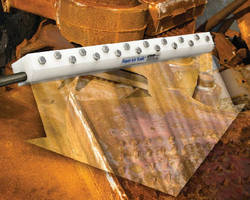 Available in lengths from 3-54 in., PVDF Super Air Knife(TM) provides laminar curtain of air that can be used to blowoff, clean, and dry in highly corrosive environments not suitable for stainless steel. Unit consists of PVDF, Hatelloy® C-276 alloy screws, and PTFE shim to adjust force and flow of airstream. Components offer resistance to UV light, inorganic chemicals, solvents, ozone,...
Read More »
Producing laminar sheet of airflow that is infinitely adjustable to blowoff, dry, or cool surfaces up to 96 in., Long Super Air Knives minimize compressed air use by entraining 40 parts room air to 1 part compressed air. Units feature 1.75 x 1.44 profile with compressed air inlets located on each end and bottom to permit mounting in tight spaces. Available in 60, 72, 84, and 96 in. lengths, air...
Read More »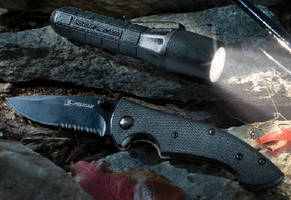 Tactical-style 3390 Knife/Lite Combo includes PM6 3320 Flashlight, which is constructed of engineering-grade polymer and weighs 3.45 oz. Powered by 2 CR123 lithium batteries for runtime of up to 1 hr (continuous), flashlight has Xenon bulb, peak output of 74 lm, and on/off/momentary tail switch. Included KB-1250 folding knife has 4.5 in., non-reflective, drop point stainless steel blade. This 40%...
Read More »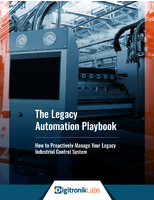 How to Proactively Manage Your Legacy Industrial Control System
Read More »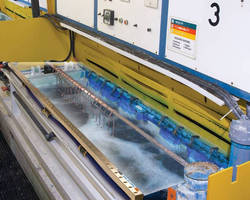 With ability to withstand temperatures up to 800°F, Type 316 Stainless Steel Super Air Knife can be used to create air barrier, blowoff, clean, and dry in highly corrosive environments. Product ejects small amount of compressed air through slotted nozzle, and this uniform sheet of high velocity air immediately pulls in surrounding room air and amplifies it at ratio of 40:1. Customizable...
Read More »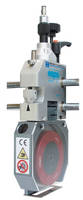 Brand new "Genius" Holder can Shear Cut, Crush Cut, and Razor Cut Double E now offers knife holders, knife positioning systems, and circular knives. The new line promises the highest quality of cut, longer blade life, and minimized dust. Patented knife holders boast many features that improve performance. Their mono-block design ensures system rigidity and reduces vibration at high speeds. A...
Read More »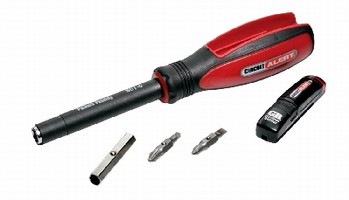 Featuring ergonomic, cushioned handles, line of Circuit Alert(TM) Tools includes screwdrivers, wire strippers, pliers, flashlights, and utility knives, all with built-in removable voltage detector that produces audio and visual alert when it detects live circuit. Tools are made of forged steel for light weight, and many are multifunctional for completing variety of tasks.
Read More »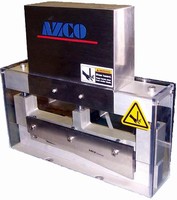 With cycle rates exceeding 400 cuts per minute, SKC-series SMARTKNIFE(TM) combines functionalities of conventional guillotine with rotary knife assembly. Featuring quiet operation, modular guillotine cutter is pneumatically-operated with self-contained air cylinder/manifold/solenoid. It is equipped with embedded microprocessor and complete control package, and eliminates need to install air...
Read More »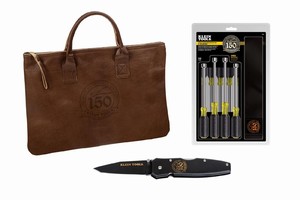 LINCOLNSHIRE, ILL. - October 2007 - Continuing its 150th anniversary celebration, Klein Tools recently introduced three new commemorative, limited edition products featuring the Klein Tools 150th anniversary logo. The three items include a nine-piece nut driver set, a contractor's leather zipper portfolio with handles, and a lockback pocket knife. The nine-piece nut driver set includes nine nut...
Read More »
Manufactured of surgical stainless steel, single-use surgical needles and knives feature overmolded medical silicone or plastic grips designed to end-user specifications to promote accuracy during variety of surgical procedures. Available needle diameters and length range from .032 in. and up in stainless, titanium, inconel, and other metals. Needle and tube features can include custom 3D bending...
Read More »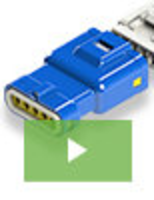 EDAC's new line of IP67 waterproof plug and socket connectors represent the cutting edge of waterproof connection technology. Part of the 560 and 572 series of connectors, they utilize innovative design concepts to deliver a level of performance and value that is unmatched in the industry. See our video to learn more.
Read More »