TegoXM RFID Launch Kit enables asset management over its entire life, including configuration, maintenance, and sensor integration. Along with 30 passive TegoTags(TM) that feature up to 32k of secure data each and do not require battery, kit integrates TegoView(TM) software and Intermec Technologies' IP30 EPC Gen 2 hand-held RFID reader. Software lets users initialize tags as well as read and...
Read More »
Harnessing RFID- and browser-based technologies, eP360 Software provides collection, assembly, integration, and delivery of asset-movement information. Turnkey solution features web-based portal that allows information to be accessed from anywhere. Designed for applications from production floor tracking of tooling to inventory fulfillment strategies of finished products, eP360 shepherds capital...
Read More »
Enhancing key processes like picking, receiving, physical count, and bin management from tethered PC to handheld computer, Accellos One Warehouse Collect for GP v3.3 extends inventory management capabilities of Microsoft Dynamics GP. It features serial expiration and supply chain intelligence, and allows warehouse worker to seamlessly interact with Dynamics GP data.
Read More »
Warehouse Management v2009.1 features outbound repacking tool for e-retailers that send 1 or 2 products to large number of customers. Specialized module reduces packing time and enables integration with multiple carrier systems to provide labelling and carrier selection, reducing delivery costs. Solution also includes support for hanging garments, allowing clothing to be hung and tracked on and...
Read More »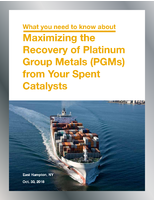 Making a decision about how to dispose of your spent precious metal catalysts? Download now to find out more about precious metal refining, the responsible and profitable solution.
Read More »
FastPic5 Order Processing software features bidirectional interface with SAP ERP system, optimizing inventory control and order processing efficiency. It offers direct data import and export capability, with synchronization between both programs, and manages all manual/automated storage and retrieval systems including shelving, rack, drawers, pick-to-light, horizontal and vertical carousels, and...
Read More »
Utilizing Production Analyzer for scheduling and inventory valuation, Shop Floor Manager v1.3 for Made2Manage ERP solution tracks manufacturing time against standards, and provides rich data set for reviewing actuals and variances. Solution consolidates labor and inventory transactions and allows customers to efficiently manage production with instant access to shop floor status and functions....
Read More »
Accellos One Warehouse v6.1 helps users increase productivity, efficiency, and visibility of activities that take place in warehouse and distribution operations. Integrated with Microsoft Dynamics AX, GP, SL and NAV, sftware is appropriate for companies with from two to several hundred warehouse workers. Features include streamlined advanced ship notice process and dock door scheduling, along...
Read More »
Allowing user to take orders, bill, purchase, and manage inventory and labor, Abacre Retail Point of Sale v2.3 runs on Windows 95/98/ME/NT/2000/XP/Vista. Designed for use on multiple computers, solution contains secure authorization levels and accepts customized currency denominations. It works with touchscreens, POS printers, line displays (poles), cash drawers, and barcode readers.
Read More »
Material Life Management (MLM) software for composite materials provides real-time information to managers/operators such as time material has been out of freezer, stock levels, material left on each roll, location, and expiration date. It supports input methods such as touchscreens and barcode readers, with material booked in and out of storage within seconds. Utilizing JETCAM's Application...
Read More »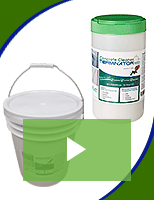 To enhance its appearance by removing oil stains, Terminator-HSD uses micro bacteria to remove the stain without harsh chemicals, acids, or detergents. Check out the video to learn more.
Read More »