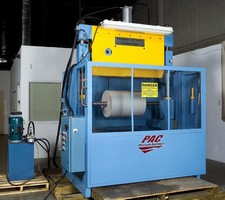 Date: May 21, 2008 Precision AirConvey Adds Second Model To Accommodate Larger Rolls Roll Splitters Remove Paper, Plastic Film, Foil From Rolls Safely, Automatically Newark, DE: Converting equipment manufacturer Precision AirConvey, Newark, Del. (www.PrecisionAirConvey.com), has installed a full size PAC Model 52 Roll Splitter in its in-house test laboratory to permit testing on rolls up to 52...
Read More »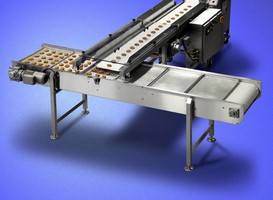 Compatible with automated systems for feeding ovens and freezers, KLEENline-® Pan Loading System reciprocates at up to 4 ft/sec and is capable of speeds up to 200 ft/min. Shuttle conveyor/pan indexing system is equipped with SEW-Eurodrive conveyor and reciprocator motors and controls with rack and pinion 1 1/8 in. dia reciprocating nose. Loading system is FDA/USDA approved and constructed from...
Read More »
Enabling bar-fed CNC lathe to run unattended for extended periods of time, Royal Rota-Rack Accumulator indexes each time finished part exits machine, safely collecting finished workpieces. System consists of heavy-duty welded steel turntable, solid-state PLC control, and optional integrated conveyor. All contact surfaces are covered with a high-lubricity UHMW plastic. Turntable has 1 m diameter,...
Read More »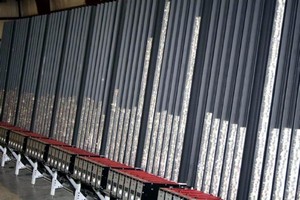 Pick-MAX Auto(TM) is comprised of multiple dispensers that hold product in vertical stack, which permits replenishment during operation. Each dispenser adjusts to accommodate product sizes from 1 x 1.5 x 25 in. to 12 x 12 x 3 in. Operating at rates up to 1,200 orders/hr, system controls direct dispensers to actuate based on order totes that pass beneath them. Totes incorporate RFID tag that...
Read More »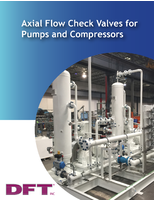 DFT® Inc. has provided a range of valve solutions for customers struggling with pump and compressor problems.
Read More »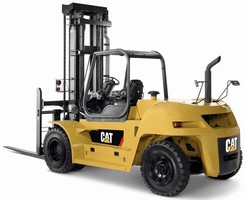 Offered in 6 capacities from 17,500-36,000 lb, P17500-P36000 Series is powered by 6-cylinder, turbocharged diesel engine with common rail fuel delivery system. Hydraulic fingertip control system helps reduce operator fatigue by promoting maneuverability with minimal hand movements, while viscously mounted operator compartment promotes operator comfort by reducing noise and vibration levels....
Read More »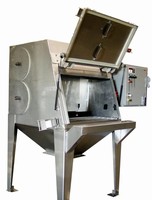 Bag Break Station designed for efficient, manual introduction into processing operations of dry bulk material from containers such as small bags, buckets, and totes. Designed to facilitate the integration of manually dumped materials into all types of dry bulk material processing equipment. The hopper is 44 square and has a usable capacity of 4 cubic feet. The dust hood features a 42 shelf height...
Read More »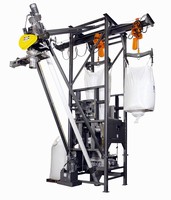 NBE's Bag Unloader provides a way for hardened material to be broken up and easily discharged with the addition of deblocking rams and massage paddles. NBE's Bulk Bag Unloader provides a way for Non-free flowing material to be deblocked with the addition of deblocking rams. The deblocking rams along with NBE's massage paddles condition the hardened material lump size so the material can easily...
Read More »
Bosch Rexroth Bridge Module Company to feature automation technology and applications that improve productivity, reliability, throughput and cost for semiconductor manufacturing and photovoltaic production, July 15-17 at Semicon West, booths S-841 and S-941. (San Francisco, CA - www.boschrexroth-us.com/SEMICON) Bosch Rexroth, the Drive and Control Company, will exhibit a broad range of automation...
Read More »
Supporting BGA and CSP memory device packages, Model M6242 offers parallel test capacity up to 512 devices and provides throughput of 42,200 units/hr. Test handler includes large display with detailed menu, and complex arm mechanisms that sort good and bad devices after testing. Accuracy is -
Read More »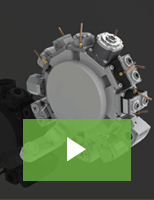 Von Ruden's driven tools are designed to each specific machine in order to maximize performance. All of our tools are performance tested and made in the USA per ISO 9001:2015 standards. Check out our video to learn more.
Read More »