Providing your business with more productivity, more of the time — it's the premise around which our entire organization is built and the pledge that we make to every business that runs Heli forklifts. Improving Up-Time — Quality Products backed by Quality Support… We offer forklifts that provide rock-solid reliability; designed to minimize the time and expense of servicing. That is...
Read More »
In this eBook, discussed are the factors to consider when choosing the right safety grating for your application and details about the varieties offered by Metalex.
Read More »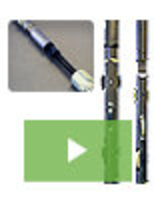 For over 35 years our Wheeled Rod Guide Couplings, have been at work in oil fields across the globe. Our products are engineered to extend the service life of sucker rods and tubing, delivering cutting-edge innovation that enhances oilfield operation, maximizes output, and enhancing overall operations. To learn about the advantages of using Wheeled Rod Guide Couplings in your wells, see our video.
Read More »