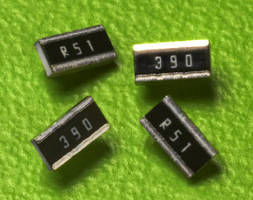 Housed in 0612 size package with wide terminal construction, Models WK73S2B and WK73R2B offer resistance range of 10 mΩ to 9.1 Ω and 10 Ω to 1 MΩ, respectively. AEC-Q200 qualified units feature tolerances of 1% and 5% and TCR values of ±100 to ±800 ppm/°C. Providing current sensing for power supply circuits,Â- resistors are suited for automotive electronics,...
Read More »
VPG's Bulk Metal® Foil Current Sensing Resistors Offer Accuracy and Stability for Li-ion Batteries in Avionics MALVERN, Pa. — Vishay Precision Group, Inc. (NYSE: VPG) today announced that it has completed tests showing that its Bulk Metal® Foil current sensing resistors meet the accuracy and stability required by its aircraft customers for charging of Li-ion batteries in avionics...
Read More »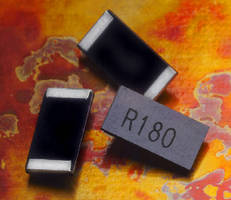 Based on metal foil technology, Model TLRH3AW features TCR of ±75 ppm in 10~22 mΩ range and ±50 ppm in 24~270 mΩ range with 1% resistance tolerance. Metal plate chip resistor provides corrosion protection and temperature resistance up to +170°C, as well as resistance to thermal/mechanical shock, moisture, and vibration. With 2 W power rating in 2512 package, AEC-Q200 qualified...
Read More »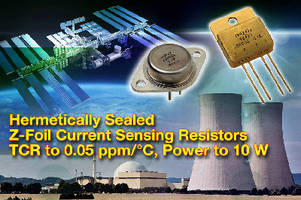 Designed to provide optimal performance when mounted on chassis or cooled heat sink, Models VHP4Z and VPR247Z offer power ratings of 10 W (heat sink) and 3 W (free air), and 4-terminal Kelvin configuration for accuracy in high-power applications. Hermetically sealed units feature low TCR of ±0.2 ppm/°C, PCR of 4 ppm/W typical, and tolerances to ±0.01%. Offering welded...
Read More »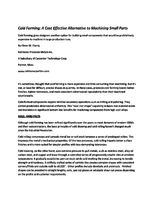 Cold forming offers tight tolerances, dimensional stability, and advanced surface finishes, while also saving you in raw material wastes costs.
Read More »
Precision Z-Foil VCS331Z, VCS332Z, VFP4Z, and CSNG Series resistors feature TCR of ±0.2 ppm/°C from -55 to +125°C, PCR of 4 ppm/W typical, and tolerances to ±0.01%. All have 4-terminal Kelvin configuration to remove influence of lead resistance and lead sensitivity to temperature. Load life stability is ±0.005% typical at 3 W and +25°C for 2,000 hr, while units...
Read More »
MALVERN, Pa. — Vishay Intertechnology, Inc. (NYSE: VSH) will be showcasing semiconductors and passive components for solar panel junction boxes and inverters as well as advanced energy conversion, energy management, and smart grid applications in booth A4.354 at the Intersolar Europe 2013 exhibition, taking place June 19-21 at the Munich Trade Fair Centre in Munich, Germany. Featured passive...
Read More »
With power rating of 1 W, TPR Series Temperature Protection Fusing Resistors safely interrupt open circuits up to 250 Vac and completely isolate circuit after quickly fusing to overload. Units feature pulse capability of wirewound resistors and are approved by UL1412 safety standards. Operating from -40 to +150°C with resistance values of 2 Ω to 10 kΩ at 5% tolerance, resistors are suited...
Read More »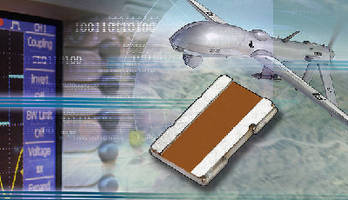 Housed in all-welded 1625 package withÂ- Bulk Metal Foil resistive element and plated copper terminations, Z-Foil VCS1625ZP combines power rating of 1 W at +70°C and low TCR of ±0.2 ppm/°C from -55 to +125°C, +25°C ref. Device provides power coefficient of 5 ppm at rated power, thermal stabilization time of less than 1 ns, and resistance range from 0.3–10 Ω....
Read More »
Constructed with metal alloy that provides corrosion and heat resistance, TLR2A 1 W, 0805-size metal plate resistor has resistance range of 5–10 mΩ, resistance tolerance of ±1%, and TCR of ±100 ppm. Non-trimming construction with pulse resistance is standard, and thickness as low as 0.26 mm. Areas of use include applications in telecommunications and consumer electronics, such as...
Read More »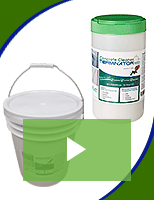 To enhance its appearance by removing oil stains, Terminator-HSD uses micro bacteria to remove the stain without harsh chemicals, acids, or detergents. Check out the video to learn more.
Read More »