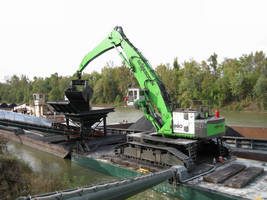 An electric-drive SENNEBOGEN 880 R-HD material handler helps coal producer meet all targets for cost-effective unloading operations Centertown, KY - In a few short years, Armstrong Coal has made great progress in its mission to supply clean coal for power generation. As its newest venture readied to start production, the Equality Mine on western Kentucky's Green River, the coal producer set about...
Read More »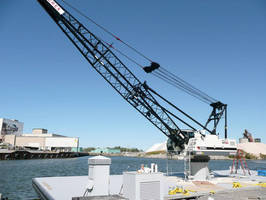 Pedestal Crane Barge for New York Power Authority Built in Cleveland by ALL Erection & Crane Rental Corp. and Great Lakes Shipyard When the wicked winter weather begins to blow off Lake Erie, a shipbuilder and a crane company in Cleveland, Ohio, and the New York Power Authority (NYPA) will be glad they cooperatively commissioned and built a barge-mounted pedestal crane for the Lake Erie-Niagara...
Read More »
Available in capacities from 10-500 tons, SMARTON® Crane features 2-transmitter intelligent radio control that allows crane to relay condition information back to operator. System delivers information on load location, load tonnage, approaching area limits, faults and overloads. Suited for coil handling, roll shops, and shipping bays, crane also includes DynAPilot sway control,...
Read More »
Doubling the size of the mini-load Automated Storage & Retrieval System (AS/RS) with stacker cranes and carton and totes conveyor from TGW Systems Spring Lake, Michigan, August 31, 2010 - TGW Systems, a leading integrated logistics solutions and material handling equipment provider, announced that customer Fastenal will double the size of the automated goods-to-the-person mini-load order picking...
Read More »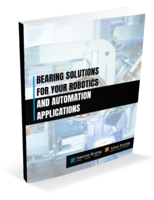 This ebook provides an in-depth overview into bearing solutions for your robotics and automation applications.
Read More »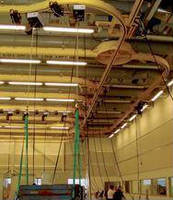 Available with single-/double-girder cranes and monorails, XM Light Crane System features 3-phase power feeding with flat cable and accommodates applications with lifting requirements up to 2 tons. Nylon wheels with ball bearings minimize operational effort, and hollow type profiles provide smooth and silent movement. Push/pull trolleys also facilitate load handling. Ranging from 20-40 ft, 4...
Read More »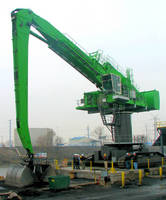 Midwest Generation formally accepted the keys to its new SENNEBOGEN 880 EQ counterbalance crane to launch the new barge-unloading operation at its Crawford Station in Chicago. CHICAGO, IL - Erich Sennebogen Jr., Managing Director of SENNEBOGEN GmbH, recently joined Brenda Brock, Plant Director at Midwest Generation's Crawford Station in Chicago, and her project team to formally present the key to...
Read More »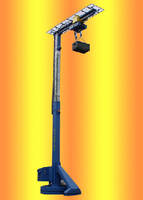 Featuring omni-directional mobility, Telescopic Mast Jib Crane handles components that need to be lifted during aircraft manufacturing process. Crane can travel in any direction 360° and can turn within its own measurements. Chrome-plated to prevent corrosion, telescopic section extends up to 36 ft under-hook height, while beam has 13.5 ft of reach and is equipped with dual hoists that...
Read More »
CLEVELAND, OH - Demag Cranes & Components offers pre-engineered single girder crane kits in either top running or under running configurations that allow installers to do their own on-site crane assembly. The kits are shipped complete with all necessary components except the steel beams, which can be purchased locally to save freight cost. The crane kit comes complete with all components...
Read More »
Woburn, Massachusetts - North American Industries (NAI) has been chosen by Cosmos Granite & Marble (Cosmos), to design and install four bridge cranes and runways. Cosmos, headquartered in Raleigh, NC, is a major importer and wholesale supplier of premium quality natural stone for commercial and residential building projects. Through five distribution facilities across the U.S., the company...
Read More »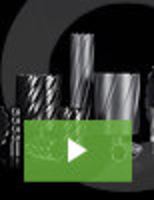 As a globally recognized manufacturer of industrial grade portable tools, Euroboor is at the forefront of drilling and cutting technology. Our reputation as an industry leader is built on robust products that fit a wide range of industrial cutting and drilling applications. See our video to learn more about all of our quality products.
Read More »