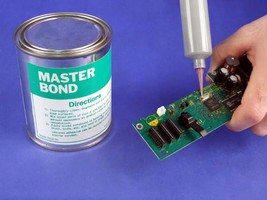 With elongation of greater than 60%, Type EP21TDCSFL is 100% reactive epoxy adhesive that has has 1:1 mix ratio by weight/volume, does not contain diluents/solvents, cures at room temperature, and offers mechanical shock resistance and low outgassing properties. Features include volume resistivity of less than 10-3 W cm, tensile shear strength of greater than 1,500 psi, T-peel of greater than 30...
Read More »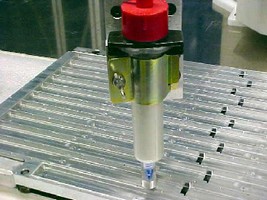 Filled with pure silver, electrically conductive 40-3900 features electrical resistivity value of less than 1 x 10-4 W-cm and operating temperature range of -50 to +170°C. Product cures in 24 hr at 25°C, 1 hr at 65°C or 15 min at 90°C. In addition to chip bonding in microelectronic and optoelectronic applications, 2-component resin is suited for microwave EMI and RFI...
Read More »
Offering temperature resistance up to 350°F, Aremco-Bond(TM) 2300 consists of 100% solids epoxy mixed in ratio of 10 parts resin to 1 part hardener by weight. Mixed viscosity is 5,000 cP and pot life for 100 g mass is approximately 45 min. Milky-clear product provides resistance to acids, alkalis, organic fluids, and salts. Supplied in pint, quart, and gallon kits, adhesive is suited for...
Read More »
Just launched in February of this year, Henkel's new Cornerbond(TM) underfill system is already collecting industry accolades and customer kudos. The new material, Loctite® 3508, was recently honored with two prestigious industry awards presented during the Nepcon China/EMT China event, held April 23 - 27 in Shanghai. Henkel began the week with the acceptance of an inaugural SMT China...
Read More »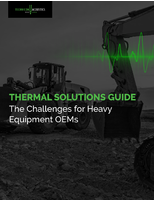 In this guide, we consider some of the most common applications that require thermal solutions, such as vehicle exhausts, fuel tank shielding, and engine compartments, firewalls, & underbodies. As well as the options available to mitigate risk around combustion engines.
Read More »
SAN DIEGO, May 9, 2007 - National Adhesives has announced, here at The Motor & Motion Association's (SMMA) Spring Management Conference, that it is offering several of its Bondmaster (www.bondmaster.com) structural epoxy adhesives for motor assembly in cartridge sizes. Key Bondmaster products now available in cartridge sizes include A 410-5P and A 359, which provide high strength and high impact...
Read More »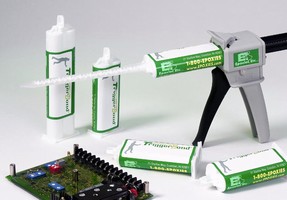 Impact resistant epoxy adhesive Type 10-3216 bonds to metals, woods, plastics, rubbers, and masonry products. Featuring 1:1 mix ratio, it will not crack, and is available in low viscosity translucent version as well as high viscosity gray version. Structural adhesive can be used in cryogenic bonding and is suitable for many aircraft and aerospace applications.
Read More »
Providing resistance to water and chemicals, 2-component EP37LV-1 Polymer System features tensile strength in excess of 8,300 psi, working life of 30 min at room temperature, and final mix viscosity of 5,000 cps. Full cures are obtained in 8-10 hr, while complete cures take longer at lower temperatures. Applications range from grouting, troweling and concrete patching in damp locations to marine...
Read More »
Carson City, NV--Taiyo America is pleased to announce the successful debut of a number of new products at the 2007 IPC Printed Circuits Expo in Los Angeles last week. Taiyo America is again demonstrating its leadership in solder mask technology and associated products by introducing a number of new products at the IPC PC Expo. These products are state of the art materials that enable fabricators...
Read More »
DUBLIN, Ohio - PLIOGRIP by Valvoline line of adhesive products is expanding its line of adhesive products to meet the demand for sheet molding compound (SMC) repair solutions in the heavy truck market. Earlier this year, Ashland Specialty Polymers & Adhesives, a business group of Ashland Performance Materials, a division of Ashland Inc. (NYSE:ASH), launched PLIOGRIP by Valvoline body repair...
Read More »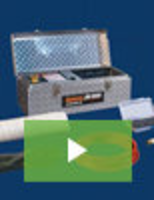 The lightweight, compact JM-1000 Mini-Jet clears grease, sand, and ice with a high pressure water jet.
Read More »