ORLANDO, Fla. - January 19, 2009 - Today at the annual Lotusphere conference, IBM and SAP AG announced the planned release date of March for their first joint software product, called Alloy(TM) software by IBM and SAP. IBM and SAP showcased successful early results of this product for several customers, including Colgate-Palmolive and Arla Foods at Lotusphere. Alloy software combines IBM Lotus...
Read More »
Providing tools for effectively managing business operations PFW ERP v5.7 comes with money- and time-saving features for SMBS and process manufacturers. It offers streamlined inventory functionality, receivables management, customer account management, along with sales order pricing management. Designed for deployment in multiple locations and workstations, software enables efficient document...
Read More »
Microsoft SharePoint 2007 connector aids smooth and complete content transfer between SharePoint repositories and other collaboration applications repositories. In addition to enabling read and write access to content stored in the Microsoft SharePoint repository, solution lets users integrate all types of lists (Calendar, Tasks, Issues, Discussion boards, Contacts) and offer read/write feature...
Read More »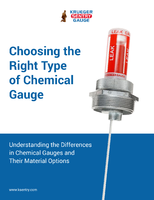 Understanding the Differences in Chemical Gauges and Their Material Options
Read More »
Release of Plantnode(R) Version 11.1 and International Deployments with Greif Builds on International Success MISSISSAUGA, Ontario, Jan. 27 /-- Shoplogix is pleased to announce Release 11.1 of Plantnode, the real-time performance management solution that enables sustainable continuous improvement programs. With this release, Plantnode provides multi-lingual capabilities and support for...
Read More »
Microsoft Dynamics AX is available with Environmental Sustainability Dashboard, which enables midsize businesses to capture auditable data needed to measure key indicators identified by Global Reporting Initiative as related to energy consumption and greenhouse gas emissions as part of everyday business processes from within their ERP solution. Leveraging role-based operation, toolset helps...
Read More »
PlantWeb architecture with Smart Operations Management suite chosen to optimize performance of Large Scale Cell Culture facility in Devens, Massachusetts AUSTIN, TEXAS (February 4, 2009) - Global biopharmaceutical company Bristol-Myers Squibb (BMS) has selected Emerson Process Management to fully automate its new facility in Devens, Massachusetts. Emerson will apply its PlantWeb® digital...
Read More »
Made2Manage ERP v6.0 enables discrete manufacturers that have mixed-mode production processes to manage deliveries, production, inventory, and costs while meeting customer demands. Along with material planning and scheduling capability, CRM capabilities are included that let every user respond to customer expectations with access to current sales, service, and business information. Integrated...
Read More »
EMK3 Midstream provides accurate, timely, and reliable information required to manage diverse pipeline operations of natural gas gathering and transportation companies. Focused on creating value and driving efficiency, solution promotes responsive and accurate operational decision-making. Features for equity gas and third party shipper gas include system balancing, shipper balancing, nominations,...
Read More »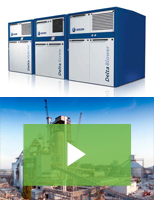 Aerzen offers blowers and compressors for challenging cement applications such as pneumatic conveying from raw mill to raw meal silos, combustion air, cement silos fluidization, and more. At Aerzen, safety is our top priority. Check out our video to learn more.
Read More »