Infor ERP A+, System i-based distribution solution, allows seamless integration with Infor SCM Demand Planning and other solutions while delivering real-time access to key business documentation. Accessed through configurable user interface, flexible business foundation helps run end-to-end operation - from accounting and sales to warehouse - and provides path to forecasting, inventory, and...
Read More »
One of China's largest and fastest growing automakers brings new plant online with the webMethods product suite o webMethods improves the efficiency, responsiveness and visibility of key systems and processes o Use of SOA slashes development times and maintenance costs Reston, Virginia, August 7, 2007 - Software AG, a global leader in business infrastructure software, today announced that...
Read More »
New SAP Best Practices Offerings Strengthen Foundation for SAP(R) All-in-One Solutions and Expand Portfolio for Midsize Companies WALLDORF, Germany, Aug. 6 / / -- SAP AG (NYSE:SAP) today announced that it is adding 60 SAP(R) Best Practices offerings to deepen its industry- and geographic market-specific support for midsize companies. Designed for SAP(R) All-in-One solutions, SAP Best Practices...
Read More »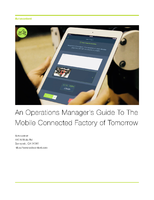 This white paper provides an overview of mobile technology for managing your manufacturing facility, while also discussing the advantages of being an early adopter.
Read More »
Grey Healthcare Partners with Aprimo to Offer Clients Greater Marketing Efficiency INDIANAPOLIS, Aug. 6 / / -- GHG and Aprimo, Incorporated, the global leader in Enterprise Marketing Management (EMM), today announced their partnership. GHG will deploy Aprimo Agency(TM) to optimize its internal processes and provide the highest level of operational efficiency to its clients. GHG, one of the...
Read More »
Simplified sales, marketing and accounting functionality aids global organization's remote employees Scottsdale, Ariz. - March 26, 2007 - Sage Software announced today that Quest TruTec, a provider of advanced measurement, performance modeling and process solutions is using SageCRM.com and Sage MAS 200 ERP to increase information sharing among remote sales, marketing and customer support...
Read More »
CDC Software's Manufacturing Operations Management Solution Selected by Leading Food Processors HONG KONG, ATLANTA - July 23, 2007 - CDC Software, a wholly owned subsidiary of CDC Corporation (NASDAQ: CHINA) and a provider of industry-specific enterprise software applications and business services, announced today that during the second quarter of 2007, leading food manufacturers selected its...
Read More »
Sage Software Solution improves organization's productivity, sales processes and customer retention Scottsdale, Ariz. - June 8, 2007 - Sage Software announced today that Qqest Software Systems, a direct marketer of time and attendance products, payroll services, and asset management and maintenance software, has achieved a substantial return on investment from its customized Sage SalesLogix CRM...
Read More »
Milwaukee, WI: RedPrairie Corp. announced today at RedShift 2007, its Tenth Annual User Conference, a standard integration to the Microsoft Dynamics GP enterprise resource planning (ERP) suite. The pre-built integration employs both the Microsoft Dynamics GP webservices and RedPrairie Integrator middleware products for faster, less costly and trouble-free implementations. Comments Jon Pratt,...
Read More »
Niles, Ohio -- July 13, 2007 -- Niles Expanded Metals & Plastics integrates new Global Shop Computer System at their Corporate offices. It provides a One-System ERP Solutions(TM) specifically designed to streamline their manufacturing operations and positions Niles Expanded Metals for growth. This new software will improve on-time delivery for their customers while enabling the Niles Expanded...
Read More »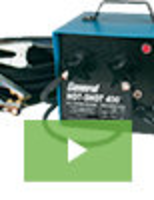 The new Hot Shot Pipe Thawing Machine delivers an innovative and highly effective approach to thawing frozen pipes. Easy to use and versatile, it is loaded with robust features that further suit it to many challenging environments. To learn all about it, see our video.
Read More »