Available with support for SDI and HD-SDI standards, 1 x 4 splitter AT-SDI-14, 1 x 4 splitter with re-clocking AT-SD-14RC, 1 x 6 splitter AT-SDI-16, and 1 x 6 splitter with re-clocking AT-SDI-16RC take single input and distribute signal perfectly to 4 or 6 identical outputs. Re-Clocking technology helps buffer and cascade long distance transmissions to send signal over 1,000 ft with resolutions...
Read More »
Solon, Ohio - July 1, 2009 - Bird Technologies Group, the innovative global supplier of RF products, systems, services and related solutions, has announced effective July 1, 2009 several product lines will now carry a five year warranty. This new, extended warranty covers any defects in material and workmanship, as well as ensuring the product meets its full specifications for accuracy and...
Read More »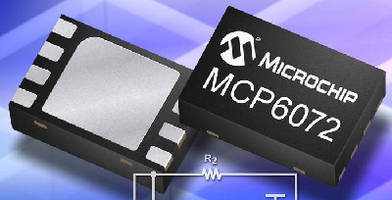 Operating from 1.8-6.0 V, MCP605X/MCP606X/MCP607X series are trimmed in-package to enable low offset voltage (150 Â-µV). Devices are unity-gain stable and operate over -40 to +125°C range. Each offers rail-to-rail input and output that promotes dynamic range. Respective Gain Bandwidth Product (GBWP) ratings for MCP605X, MCP606X, and MCP607X series are 385 kHz, 730 kHz, and 1.2 MHz,...
Read More »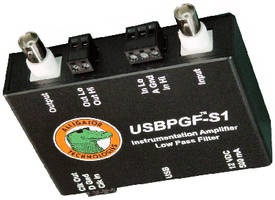 Compatible with all 12, 16, or 24-bit A/D devices, USB-controlled, single-channel Model USBPGF-S1(TM) consists of programmable signal conditioning instrumentation amplifier and low pass filter. Users can mix and match filter characteristics and independently select and program AC or DC coupling, corner frequency, and gain steps up to x1000 in single-ended or differential measurements. Each can be...
Read More »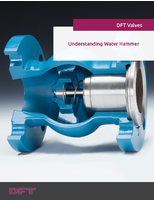 DFT Inc's engineers have been working with professionals in a range of industries for decades, helping to identify and resolve the underlying causes of water hammer. In this eBook you will learn about many of these common causes, how they impact your system and some of the basic changes you can make to eliminate them. In this eBook you will learn: What causes water hammer and why it is such a persistent problem. The role design plays in reducing the risk water hammer poses to your system. DFT's professional recommendations for coping with water hammer.
Read More »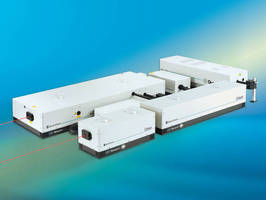 Featuring optimized dual outputs for simultaneous high-energy and time-resolved experiments, Spectra-Physics® Unison(TM) amplifier system delivers femtosecond pulses at both terawatt-class intensities at 10 Hz frequency and mJ energies in kHz frequency regime. System also features pulse energy stability and TEM00 spatial mode for high quality experimental results.
Read More »
High Power Added Efficiency Lineup Includes GaAs Amplifiers with Higher Gain for Microwave Radios and SSPAs IRVINE, Calif., June 9 /-- Toshiba America Electronic Components, Inc. (TAEC*) and its parent company, Toshiba Corp., announced the expansion of its gallium arsenide field effect transistor (GaAs FETs) lineup with three new devices optimized for power efficiency. The Power Added Efficiency...
Read More »
High Power, High Gain Devices Include Toshiba's First Production C-Band GaN Amplifier for SATCOM, an Extended Ku-Band Amplifier and an X-Band Amplifier for Industrial Applications IRVINE, Calif., June 9 / / - Toshiba America Electronic Components, Inc. (TAEC*) and its parent company, Toshiba Corp., announced the addition of three new gallium nitride (GaN) semiconductor High Electron Mobility...
Read More »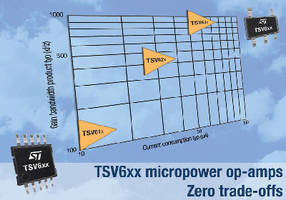 Available in single, dual, or quad configurations, Series TSV61x, TSV62x, and TSV63x offer active current as low as 11 Â-µA, 29 µA, and 60 µA, respectively. Units feature EMI rejection, ESD tolerance, and operation over extended temperature range of -40 to +125°C. Supplied in shutdown and non-shutdown versions, TSV62x and TSV63x provide 420 and 880 kHz...
Read More »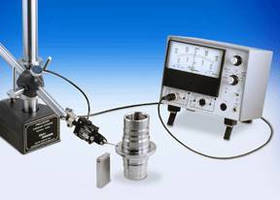 Featuring dual input ports for single or differential ID or OD measurements, Series 830 includes dimensional-measuring model calibrated in both inch and metric units. Gage inputs can be used simultaneously with either normal or reversed polarity for differential measurement setups, and ±2 V analog output port is also provided. Portable or bench mountable unit provides minimum of 8 hr of...
Read More »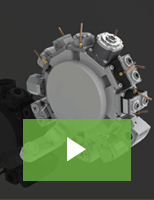 Von Ruden's driven tools are designed to each specific machine in order to maximize performance. All of our tools are performance tested and made in the USA per ISO 9001:2015 standards. Check out our video to learn more.
Read More »