High Power, High Gain Devices Include Toshiba's First Production C-Band GaN Amplifier for SATCOM, an Extended Ku-Band Amplifier and an X-Band Amplifier for Industrial Applications IRVINE, Calif., June 9 / / - Toshiba America Electronic Components, Inc. (TAEC*) and its parent company, Toshiba Corp., announced the addition of three new gallium nitride (GaN) semiconductor High Electron Mobility...
Read More »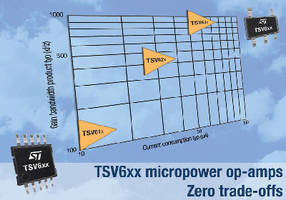 Available in single, dual, or quad configurations, Series TSV61x, TSV62x, and TSV63x offer active current as low as 11 Â-µA, 29 µA, and 60 µA, respectively. Units feature EMI rejection, ESD tolerance, and operation over extended temperature range of -40 to +125°C. Supplied in shutdown and non-shutdown versions, TSV62x and TSV63x provide 420 and 880 kHz...
Read More »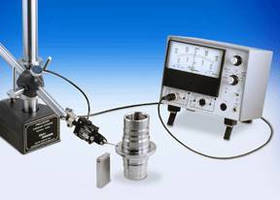 Featuring dual input ports for single or differential ID or OD measurements, Series 830 includes dimensional-measuring model calibrated in both inch and metric units. Gage inputs can be used simultaneously with either normal or reversed polarity for differential measurement setups, and ±2 V analog output port is also provided. Portable or bench mountable unit provides minimum of 8 hr of...
Read More »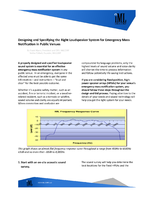 A guide for designing and implementing effective loudspeaker systems for emergency situations.
Read More »
New Focus(TM) TA-7600 series amplifier features tapered structure that maintains minimized power densities even after amplification. Capable of delivering over 1 W output power, unit offers fiber-coupled input which allows for simplified alignment. Constant power mode, monitor for input power, and front- and back-end isolation features are also included. Unit is compatible with New Focus...
Read More »
Manufactured using InGaP HBT process technology, 2 GHz Model RF5602 features 32-34 dB small signal gain, integrated input power detector, and 3.3-5 V operation. Error vector magnitude performance is 2% at 26 dBm output power, 2% at 25 dBm, and 3% at 23.5 dBm. Optimized for use as final RF amplifier in 802.16 e/d and 802.11 b/g/n applications, device is also suited for 2.4 GHz ISM band...
Read More »
Based upon GaAs pseudomorphic high electron mobility transistor technology, Models SUF-1033, -5033, and -8533 offer multiple high-frequency gain blocks featuring various gain levels across bandwidth. Each packaged broadband amplifier also features single supply voltage, low gain variation vs. temperature, and 50 W I/O match. With frequency ranges of DC-18 GHz, 0.1-4 GHz, and DC-12 GHz, units are...
Read More »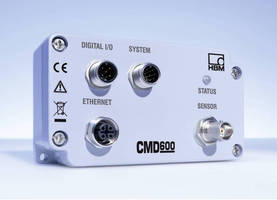 CMD600 digital charge amplifier enables mechanical quantities, such as force, pressure, or torque, in range of 50-600,000 pC (pico coulombs) to be measured with piezoelectric sensors and made available either as analog voltage signals (0-10 V) or in digital form via its integrated Ethernet interface. All signal inputs and outputs are electrically isolated, and IP65 rated device utilizes TEDS so...
Read More »
Supporting Advanced Plug and Measure technology that allows applicable transducers to be automatically recognized by amplifier, MX410 has 4 individually configurable inputs, each electrically isolated and each with analog output. Digitalization is implemented with 24 bit resolution. Module is suitable for SG transducers in half or full bridge circuits, inductive half or full bridges, current-fed...
Read More »
With sampling rates of up to 96,000 signals/sec and bandwidths of up to 38 kHz, MX460 can acquire torque from HBM torque transducers, PWM signals, and speeds. It measures digital signals with precision of up to 1 MHz, while all input channels are electrically isolated and can be individually configured. Device supports integrated Transducer Electronic Data Sheet (TEDS) technology and features...
Read More »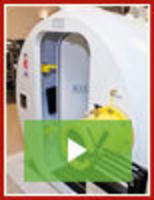 Tekna is a leader in Monoplace and Multiplace Hyperbaric Chambers for Hyperbaric Oxygen Therapy (HBOT), offering products that set the standard for quality and innovation. Our new 7200 series of multiplace chambers is a state-of-the-art system that integrates advanced engineering with a plethora of features and options making it the industry's premier HBOT system. To learn more, see our video.
Read More »