Manufactured in MSOP8 package, INA159 level-shifting difference amplifier has gain of 0.2 and is designed to interface -
Read More »
Designed for 3.3-5 V DAQ systems, high-gain THS4508 and unity gain stable THS4511 and THS4513 feature fully differential architecture and 5 V single supply operation. Bandwidths range from 1,600-2,000 MHz, with slew rates from 4,900-6,400 V/-µs. Suited for operation over -40 to +85-
Read More »
Dual-mode, 3-stage Model MAAPSS0076 is intended for Digitally Enhanced Cordless Telephone applications and is available in lead-free, 3 x 3 mm, PQFN 12-lead package for RoHS compliance. In High Power Mode, unit generates 25.5 dBm of output power while drawing 350 mA of current. In Low Power Model, output power is 17 dBm with current of 130 mA. Amplifier has typical power gain of 25.5 dB with...
Read More »
Operating from single or dual supplies, Model OPA567 has rail-to-rail swing on input and output. Output swing is within 300 mV of supply rails with output current of 2 A. Diagnostic flag is provided for temperature overstress and can be configured to provide thermal shutdown. Housed in 5 x 5 mm QFN package, op amp is suited for driving valves, actuators, laser diode pumps, and servo motors, as...
Read More »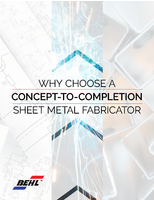 Concept-to-Completion provides you with the services and guidance you need to get your metal fabrication project done better, faster, and more cost effectively, all in one place.
Read More »
Operating from -10 to +40-¡Ã†C at up to 95% RH, AST3IS isolation amplifier is designed for use with strain-gage transducers in hazardous areas without Zener barriers. DIN-rail mount unit has ADC capable of up to 8,300,000 counts. With built-in support for RS-485 and MODBUS RTU, transmitter can communicate with process control host without external hardware or additional software. Unit accepts...
Read More »
EVAC-compliant Plena Loop Amplifier allows hearing-aid users in public buildings to clearly hear announcements, music, or soundtracks. Unit integrates into new or existing sound systems in public areas up to 600 sq meters. Master/slave configuration supports low spillover and quadrature system design, providing standard solution for multiple room applications. Amplifier includes automatic gain...
Read More »
Suited for digital and analog broadcast applications, Model LDU401C provides 350 W at 1 dBcp and 90 Wrms, while Model LDU501C deliverws 450 W at 1 dBcp and 120 Wrms. Typical gain is 15 dB for Model LDU401C and 18 dB for LDU501C. Both are equipped with Motorola RF power devices.
Read More »
Supporting 2.4 GHz 802.11 b/g and 5 GHz 802.11a standards, dual-band Model SST13LP02 provides 20 dBm for 802.11b, 18 dBm for 802.11g, and 18 dBm for 802.11a applications. Integrated, temperature-stable, on-chip power detector tolerates output mismatch of VSWR greater than 2:1 at all angles. On-off switching is controllable by baseband chip with minimum reference current of ~2 mA. Applications...
Read More »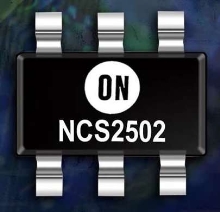 NCS25xx family of 200 MHz devices allow video designers to achieve 0.02% differential gain and 0.1-
Read More »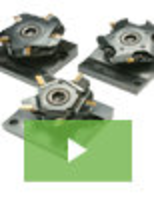 Thanks to the unique SpinSelect™ Multi-Pocket selectable quick change tool holder, it's time to rethink the range, complexity and volume of parts that your lathe can produce. Our Spin-Select™ tool was created to increase productivity and consistency by decreasing downtime associated with lathe cutting tool and insert setups or changeovers. This product is a game-changer for the industry and we're pleased to show you why.
Read More »