Featuring 4.9-5.9 GHz operating range, 2 W Model SZP-5026Z is optimized for use as either final or driver stage in WiMAX equipment. Single-stage, Class AB, InGaP Heterojunction Bipolar Transistor amplifier delivers error vector magnitude performance of 2.5% at 25.5 dBm output power. Operating from 3-5 V supply, device includes internally pre-matched input and output, integrated input power...
Read More »
Fully compliant with HSDPA and HSUPA requirements, AWT6281 PA enables manufacturers to design and develop 3G handsets and data cards required for successful conversion to UMTS900 worldwide. Self-contained product comes in 4 x 4 x 1.1 mm SMT package, offers quiescent currents of 7 mA without dc/dc converter, and eliminates need for external voltage regulator. It extends operating time of 3G...
Read More »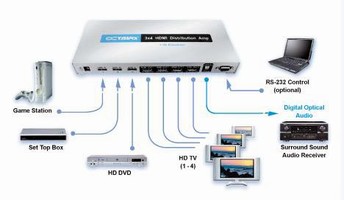 Designed for home theaters and public HD display kiosks, 3x4 HDMI V1.3 Switch and Splitter Distribution Amplifier distributes full 1080p video streams to 4 HD displays simultaneously via HDMI. RS-232 serial port provides integration with 3rd party control systems, while 3x1 HDMI switching allows up to 3 separate HD sources to be selected. Unit processes HDMI data and outputs audio via Toslink...
Read More »
DVI Video/Audio Extender Kit enables digital signage professionals to distribute video and audio signals up to 100 ft away from primary source to designated display. Solution is comprised of 2 DVI units, local transmitter, and remote receiver connected with one CAT 5e/6 Ethernet cable. Using DVI cords, transmitting component links to native source, and receiving extender hooks up to DVI display....
Read More »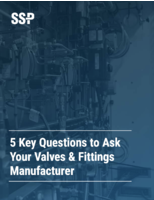 This ebook discusses the five key questions you can ask to avoid common pain points and find a manufacturer who will provide the maximum value and service for your components.
Read More »
PT186-2KWR military ruggedized pulse amplifier is designed for outdoor mobile and fixed applications. Compact unit is 6.5-18.0 GHz, 1.5 kW peak power amplifier for up to 6% duty cycles. CW/Pulse version, as well as other frequency ranges, are available to meet application requirements.
Read More »
Supporting multiple output configurations, 20 W Class-D Model TAS5601 includes PWM interface to video or audio processor. Unit is more than 90% efficient and requires only 3.3 V and 10-26 V rail. Operation up to +26 V allows LCD-TV manufacturers to power device off existing +24 backlight rail, eliminating need for dedicated audio power rail. In addition, TAS5601 includes over-voltage,...
Read More »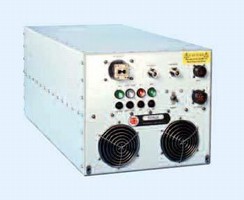 PT186-2KWR military ruggedized pulse amplifier, with RF pulse fidelity, is compact 6.5-18.0 GHz 1.5 kW peak power amplifier providing up to 6% duty cycles. CW/Pulse version as well as other frequency ranges are available to meet requirements.
Read More »
Compatible with Qualcomm CDMA2000(TM) and EVDO(TM) chipsets, Model AWT6309 is intended for wireless handsets and data devices that operate in 1.7 GHz bands. It utilizes InGaP-Plus(TM) technology, integrating switches and amplifier components onto same die. Unit provides 41% efficiency at +28 dBm output and 22% at +17 dBm output with quiescent current of 14 mA and leakage current of less than 1...
Read More »
Available in SOIC-8 or MSOP-10 package, unity gain stable OPA2889 features architecture that provides designers with 115 MHz bandwidth, 250 V/Â-µs slew rate, and quiescent current consumptiion of 460 µA/per channel. Power down feature further reduces quiescent current to 18 µA/channel, while 8 Vpp output swing and ±40 µA output current minimize signal...
Read More »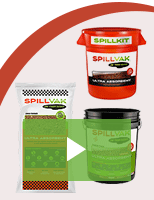 Are you struggling to find an absorbent that doesn't result in at least some leaching? SpillVak outperforms all rock and clay-based materials. Check out our video to learn more.
Read More »