Designed for Model 1052-00 enclosure, Model 38-1052-ADPDOOR-1140 allows replacement of Cisco 1240 access point with Cisco 1140 access point. Field replaceable door incorporates locking mechanism for Cisco 1140, which is secured in same location using same key. Model 1052-00 remains in place, allowing for cable management and termination.
Read More »
Allentown, Pa. (January 18, 2010) -- How can auto dealerships improve their bottom line with better organization? Stanley Vidmar, along with its partners Mac Tools and Stanley Security Solutions, will provide the answer at this year's NADA Convention & Expo held Feb. 13-15 in Orlando. Showcasing a broad range of the companies' products that can be part of an integrated solution or used separately...
Read More »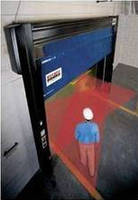 Protecdor® and TrakLine(TM) Series are available with I-Zone(TM) Area Detection System, which uses IR technology to sense pedestrians before they are in door opening as well as prevent door from beginning to close when person enters 7 ft safety zone. This self-monitoring safety device helps reduce risk of impact from pedestrian approach and can also reverse door if close cycle has already...
Read More »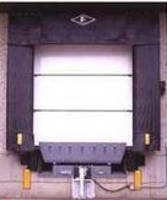 Featuring Lite-Lift(TM) System, which includes enclosed counterweights for ergonomic operation, WORKHORSE(TM) 1000 minimizes risk of impact due to door drift-down, which can occur with spring-counterbalanced designs over time. Quick-Fix(TM) design utilizes nylon breakaway blocks in conjunction with standard nylon rollers. If door is impacted, roller assembly pivots to release door. Sections...
Read More »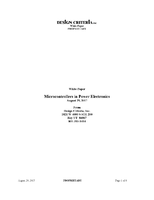 This white paper explores the power supply advantages of digital microcontrollers, as well as how digital power supplies can be used to manage entire systems.
Read More »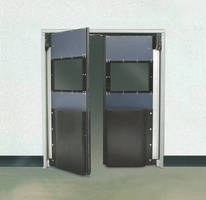 Featuring continuously welded aluminum sub-frame, rugged ImpacDor® XHD-175 is built to withstand stress of wash down applications, USDA, security, and refrigerated usage while retaining its shape and seal in large openings. It is resistant to impact abuse by carts, pallets, hand trucks, and medium fork lift traffic. Door features 24 in. high full-view windows, 1.75 in. thick foam insulated...
Read More »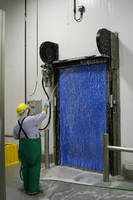 FasTrax® Clean Door is machined from solid block of UHMW plastic, minimizing areas where unwanted materials can be trapped. Smooth polypropylene door fabric, available in choice of colors and thicknesses, offers resistance to acids, bases, and molds. USDA- and FDA-compliant door features Traxion Door Drive System that delivers peak speeds of 100 ipm. Drive system and controls are totally...
Read More »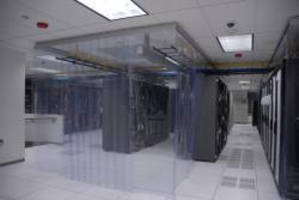 Slash energy costs with better air flow dynamics by using AIRBLOCK(TM) Curtain Systems offered by Liberty Industries. Data center managers across the country are discovering that AirBlock(TM) curtains, strip doors and modular partitions are ideal for use in computer data centers where hot-aisle/cold-aisle containment is important. Hot-aisle/cold-aisle design is a data center best practice where...
Read More »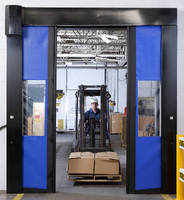 SplitSecond(TM) Series employs variable-frequency drive and spring tube design that opens fabric curtain from middle at speeds up to 120 ips. Each half of curtain has window for visibility when door is closed, and curtain collects into side frames to minimize required wall space. Three through-beam photo eyes monitor door opening and torque-sensing drive system reverse door if obstruction is...
Read More »
Employing soft foam core, FLEX-PANEL(TM) Door System survives repeated impacts while maintaining insulation capacity. It features electro-magnetic frame and header system that actively commands optimal door seal. Heated air moving through frame system also eliminates need for defroster wiring in floor or door panel. Internal frame eliminates bowing of door panel, while lightweight door panels...
Read More »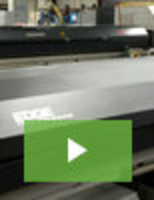 For precision and value that sets the standard for quality and craftsmanship, EGS Production Machining is the source for precision and value. Our extensive capabilities and dedication to customer service allow us to deliver the optimal manufacturing solution. See our video to learn more.
Read More »