Featuring 4,000-lumen max brightness level and 1600:1 contrast ratio, single-chip PT-D4000U uses two 3,000 hr-rated ac-powered lamps to produces Hi-Res images in any viewing environment. Its 10-bit processing system provides smooth tonal expression, while IP conversion circuit produces detailed images. Along with frame noise reduction, features include 3D Color Management and progressive cinema...
Read More »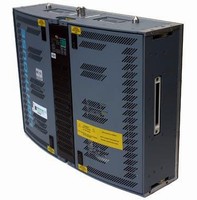 US - 8th June 2007 - The leading LED screen manufacturer Lighthouse Technologies will once again be showing its world-class giant video displays on booth 7043 at InfoComm from 19th to 21st June in Anaheim, California. The company will have its three best-selling products on display: R4, R6-III and R10-II. R4 is a 4mm pixel pitch display, Lighthouse's finest pixel pitch to date. Its ultra-high...
Read More »
Featuring 10-bit video processing, Model PT-D5700U and widescreen Model PT-DW5100U include 3D Color Management feature that helps optimize color saturation, hue, and brightness levels for approximately 1,070,000,000 colors. Wireless remote controls offer max operating distance of 30 m, while ac lamps last up to 2,000 hr in high mode and 3,000 hr in low mode. Liquid cooling system directly cools...
Read More »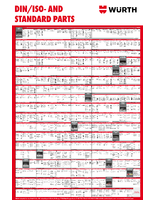 This fastener technical resource guide will show you how to specify nuts, points, heads, washers and more.
Read More »
Featuring 2-lamp system, Model PDG-DXT10L produces 5,200 lumens with 2,100:1 contrast ratio. Lens exchange system uses single release button to install 5 different lenses dependent on required throw distance, while Power Iris dynamically opens and closes lens' iris from scene-to-scene depending on image content. Projector is compatible with PJ-NET function, which uses IP addressing scheme to...
Read More »
Weighing 6 lb, portable Model PDG-DSU20 features 800 x 600 SVGA resolution and 2,000 lumens, making it suited for classrooms, boardrooms, and other small gatherings for video playback or presentations. Unit is connected to PC using D-sub 15-pin input or any video source such as VCR, DVD player, or cable/satellite set-top box via composite RCA jack or S-video connection. Projector also includes...
Read More »
Suited for front projection products in 5,000-7,000 lumens range, DLP .7 XGA 3 chip targets conference rooms, auditoriums, houses of worship, university halls, and e-cinema customers in ProAV market. By reflecting light off mirrors of DLP chips instead of passing light through panel, DLP 3 chip products offer optimal picture fidelity. Available in resolutions of XGA, WXGA, and 720p, products will...
Read More »
New myGarmin Feature Makes it Easier Than Ever to Download Geocaches OLATHE, Kan., May 31 -- Garmin International Inc., a unit of Garmin Ltd. (NASDAQ:GRMN), today announced it has refreshed its eTrex series by adding a high sensitivity GPS receiver to this popular line of outdoor handheld devices. The new models include the eTrex Vista® HCx, eTrex Legend® HCx, eTrex Summit® HC,...
Read More »
Offering SVGA resolution and 2,000 ANSI lumens, PowerLite S5 uses high-aperture Epson 3LCD technology with 3-chip engine to deliver natural color and sharp images for presentations in any lighting environment. Features such as HDTV support, high brightness mode, and Instant On and Instant Off® (5 sec power up and 4 sec power off) are combined with A/V Mute Slide, 1.3x digital zoom, and...
Read More »
Featuring mimio® interactive technology, iPanel offers interactive control, data manipulation, digital pen, and graphic annotation tools. Complete presentation system includes interactive whiteboard, copy board, and projection screen, delivering high-density images, even in bright ambient light. Screen consists of micro-mirrors and utilizes no color pigmentation within imaging surface,...
Read More »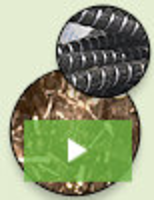 Fiber Reinforced Polymers (FRP), represents a truly groundbreaking advancement in structural reinforcement. Lightweight, strong, and green, they are changing the way the construction industry thinks about rebar. Unlike steel, FRPs don't rust and are far stronger than standard rebar. To learn why Fiber Reinforced Polymers are poised to change the way the world builds, see our video.
Read More »