Fredericksburg, VA - The US Department of Energy estimates that an average of 25% of compressed air is lost to leaks. The result: unnecessarily high operating costs. Fixing just 1/3 of identified leaks can often save thousands each year in electrical costs. What's more, leak reduction also lowers carbon footprint, provides more stable system pressure and lessens compressor run time. Kaeser's new...
Read More »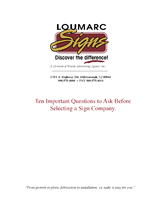 This white paper outlines 10 questions that should be asked when selecting a sign company, eliminating some of the guesswork from making the best choice for your branding and signage needs.
Read More »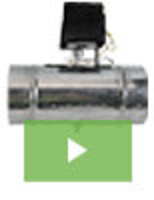 Alan Manufacturing has a long history of developing innovative solutions for HVAC applications. With over 1,000 product designs under our belt, we have gained a reputation as the go-to source for HVAC dampers, hardware, duct supports, zone control systems, and much more. Adding to this extensive list of achievements we now announce the release of our new line of Fresh Air Intake products. Designed to meet ASHRAE 62.2 standards, they are the most robust and high-performance product of their kind. See our video to learn more.
Read More »